So You Want to Learn About… ANIMALS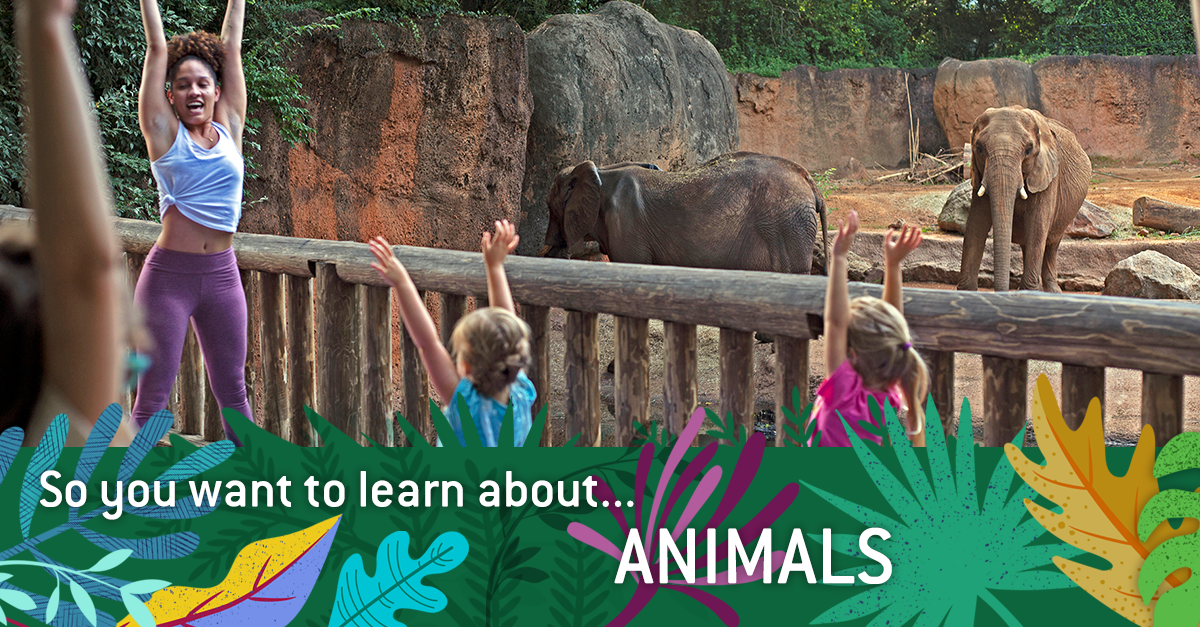 Embrace your inner zoologist at this year's #ATLSciFest! Do yoga with elephants, learn how (and why) to count squirrels, and more with these animal events. Start planning your Atlanta Science Festival experience with these curated events, taking place all over metro Atlanta March 6-21, 2020.
Presented by Atlanta Audubon Society
Come for a walk with us in Piedmont Park and learn more about Georgia's resident and migrating birds. Whether you are a beginning birder or not, we are excited to have you! Note that the walk will cover approximately 3.5 miles and, as a result, may not be best for the youngest bird fans.
Please bring your own binoculars, or let us know in advance so we can bring a pair to loan you. Learn more about this free event.
Presented by Amphibian Foundation, HowStuffWorks
There is hardly a group of animals more feared and misunderstood than snakes. Myths and misinformation have surrounded these animals since humans first showed up on the planet and started getting creeped out by snakes. How are they able to do everything without any arms or legs? Join the Amphibian Foundation and HowStuffWorks to explore this fascinating group of reptiles and discuss how they sense, function, move, eat, and capture prey. Register for this event here.
Presented by Amphibian Foundation
Atlanta is home to a unique nonprofit dedicated to the conservation and research of amphibians amidst a global population decline. In 2016, the Amphibian Foundation formed to focus on conserving two of Georgia's most imperiled species (Gopher Frog and Flatwoods Salamander). Closed to the public, this is a chance to see the conservation collections and meet Foundation staff working hard to save these vital and sensitive animals from extinction. Register for this event.
Presented by Amphibian Foundation
Reptiles and wine?! What could go wrong? Join us for an extremely hands-on approach to learning about this fascinating group of animals. Heck, we'll even get to know some amphibians too! Frogs, salamanders, turtles, lizards, and snakes will be present to explore. Your ticket includes access to the event and one drink. Additional drinks may be purchased onsite. Get tickets here.
Presented by Atlanta Audubon Society
Nothing connects us to the natural world quite like birds. However, with their ability to fly, it is often hard to see our feathered friends up close and personal. Join Atlanta Audubon Conservation Director Adam Betuel for the opportunity to see some of our wild birds in the hand. Adam will discuss the work Atlanta Audubon is overseeing, teach us about bird banding and the science behind it, as well as educate participants on the joys of birds and birdwatching. Get tickets to this event.
Presented by Zoo Atlanta
Forget tree pose, let's do trunk pose! Learn about elephants and try out some elephant-inspired yoga poses with our certified yoga instructor. This fun, interactive program is geared toward families with children ages 4+. Namaste! Get tickets here.
Presented by Zoo Atlanta
Ever wonder how snakes slither or how frogs use their tongues? Why do flamingos stand on one leg and what is the physics behind elephant trunks? Drop in at Zoo Atlanta to celebrate the diversity of animals on Earth and the incredible ways they move. With help from biomechanics experts at GA Tech, you can participate in live demonstrations and presentations that are sure to generate excitement about biomechanics and applications in Bio-inspired Design as you tour the Zoo. Learn more about this event.
Presented by Fernbank Science Center, American Reptile Association, Georgia Reptile Society
Explore "snake senses" at the 6th annual Snake Day at Fernbank Science Center. What is up with those tongues? Where does the term "pit viper" come from? If rattlesnakes don't have ears, why do they make noise to warn predators? Snake Day features family-friendly hands-on activities, informational talks, displays about snakes as pets and Georgia's own native snakes, and of course, LOTS of live snakes to get up close & personal. Food trucks will be on-site with tasty treats. Learn more about this free event!
Presented by Amphibian Foundation, Little Shop of Stories
Head over to Little Shop of Stories to hear some of our favorite stories about amphibians, followed by amphibian art amusement. We'll be using our scientific observation skills and live drawing some of our favorite amphibians! We will even meet some of the friendliest frogs in the world! Learn more about this free event.
Presented by The Squirrel Census
From the team that brought you the Central Park Squirrel Census: Why count squirrels? What can we learn by paying attention to the common Eastern gray? And how do you know you're not counting the same squirrel twice? Come tally Sciurus carolinensis (er, count squirrels) with the Squirrel Census and discover how this citizen science activity uses a unique methodology to teach us about squirrels, urban wildlife, ourselves, and how we use our urban green spaces. Note: This event also happens at 5:00pm. Register for this event.
Presented by Amphibian Foundation
Come on out to Clyde Shepherd Nature Preserve in Decatur and witness wildlife with regional experts from the Amphibian Foundation. Become 'citizen scientists' and perform an amphibian 'bioblitz' inventory of the preserve documenting salamanders and frogs in one of the last strongholds for amphibians inside of the perimeter! Everyone and their families are encouraged to attend and bring your cell phones to upload images of what we find to iNaturalist. Learn more about this free event.
Presented by Amphibian Foundation
Join us for a discussion and (completely safe) live exhibit exploring the biology, myths, and legends of our largest, most notorious, and most despised native vertebrates – the Snapping Turtle. See them up close and personal while learning about their ecology and the role they play in our urban ecosystem. Learn about the Amphibian Foundation's urban turtle conservation programs which benefit our community as well as the turtles in our neighborhoods. Learn more about this free event.
Presented by Emory University, InterPlay Atlanta
What animal left those tracks in the mud outside your backdoor, or next to the stream where you walk your dog? Atlanta may be a large urban city, but more than just people and their pets live among us. What stories can we tell from animal tracks once we understand how to identify and interpret them? This fun interactive workshop teaches participants about some of Atlanta's wild animals and how to recognize and interpret their tracks and signs while using improvisational movement and storytelling. Get tickets here.
Can't get enough science? Discover the full #ATLSciFest 2020 schedule here!
https://atlantasciencefestival.org/wp-content/uploads/2020/02/ASF-2020-Animal-Events.png
627
1200
Anna Laura McGranahan
https://atlantasciencefestival.org/wp-content/uploads/2019/08/logo-atlanta-science-festival-engineered-science-atl.png
Anna Laura McGranahan
2020-02-04 16:33:46
2020-02-04 17:01:03
So You Want to Learn About… ANIMALS