So You Want to Learn About… TECHNOLOGY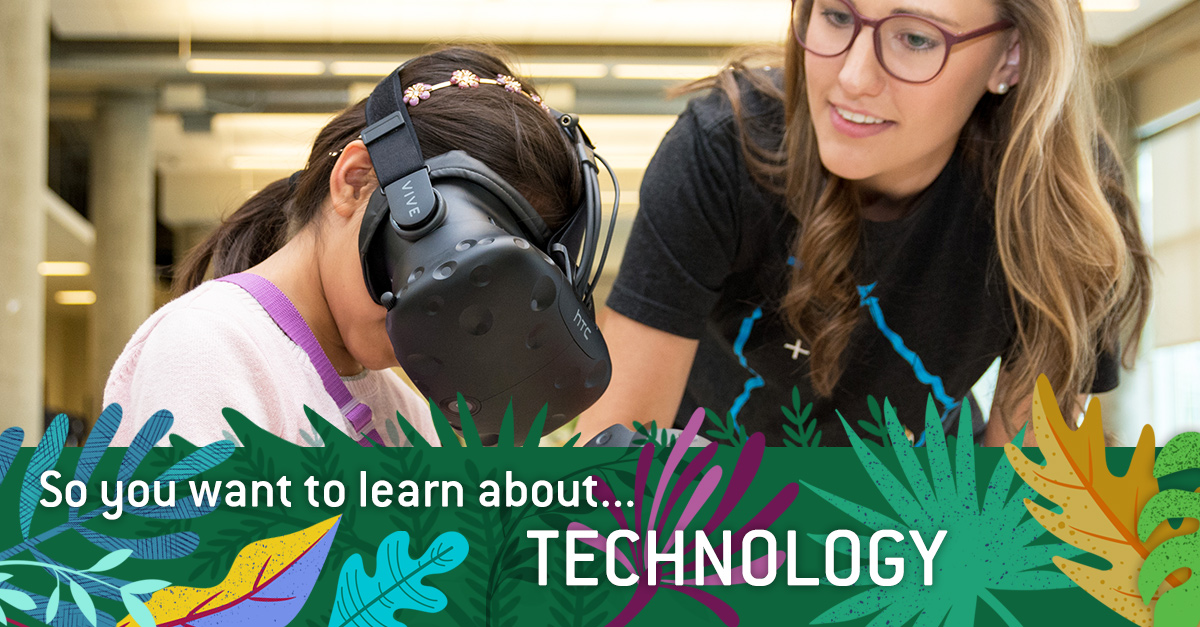 Calling all technically-inclined! If you're itching to learn more about coding, robotics, future technology, and more, #ATLSciFest 2020 has you covered. Start planning your Atlanta Science Festival experience with these curated events, taking place all over metro Atlanta March 6-21. Keep reading to learn more about technology events!
Presented by STEM Velocity
Have you ever wanted to control a robot without even touching it? Or have a robot "detect" light or sound in the matter of seconds? If you have a love of robots and the world of technology, come learn through play today at our session on Mod Robotics! Register for this event here.
Presented by Georgia State University Center for Excellence in Teaching and Learning
EXLAB is a collaborative environment centered around experiential learning, creativity, and innovation. Join us at this event as EXLAB opens its doors to the public to host an array of educational, kid-friendly maker projects. Bring your family to learn the basics of sewing, 3D printing, laser cutting, soldering, and more!
Please register all children and adults attending this event. A supervising adult must be on-site at all times. Drop-off of minors is not allowed. Get tickets to this event here.
Presented by Institute for Electronics and Nanotechnology at GA Tech, Jimmy Carter Presidential Library
Interested in emerging technologies? Entrepreneurship? The future? Join members of the GA Tech and Carter Library communities in a game where you role-play an entrepreneur and pitch future technology applications. Examples include invisibility cloaks, self-repairing paint, and space-based nuclear power plants. No technical knowledge needed; you will be provided with the information you'll need to play. You can share your thoughts on who, where, and how different technologies may be deployed, and if you think they should be. Learn more about this free event.
Presented by Swiss Federal Institute of Technology in Lausanne, Consulate General of Switzerland in Atlanta, Presence Switzerland
Take your first steps into robotics with Thymio! In a fun escape game, you will learn about the basic behaviors, functions, and sensors of a robot called Thymio and help him find his way to his destination! The escape activity will be led by a team from the EPFL (École polytechnique fédérale de Lausanne) in Switzerland where the robot has been developed. This is your chance to discover the universe of robots and learn a robot's language!
There are two time slots for this event – 1pm and 3pm. Get tickets here!
Presented by Georgia Tech
A music, engineering, and tech mashup, the Georgia Tech Guthman Musical Instrument Competition is an annual event aimed at identifying the world's next generation of musical instruments and unveiling the best new ideas in musicality, design, engineering, and impact.
Come early from 4-7 pm to see musicians, artists, engineers, and makers showcase their latest work at the Music, Art, and Technology Fair– a hands-on, interactive showcase. Get tickets here.
Presented by Peachtree Publishers, Jennifer Swanson Books, Little Shop of Stories
Cars take us to work, to school, to lots of places! Can you imagine a world without them? It's not easy! And who do we have to thank for helping to make our cars safe? A crash-test dummy! Come join children's book author Jennifer Swanson for a FUN and interactive trip through the history of car safety engineering and find out if YOU have what it takes to become a HUMAN crash-test dummy! Learn more about this free event.
Presented by The Gathering Spot
As Atlanta grows into a national hub for minority-led tech, come learn from Black Tech Entrepreneurs at the hub for its innovation, The Gathering Spot. Join us for a panel discussion, "Building Your Tech Ecosystem," where you'll learn how to grow your network and build your own startup ecosystem. Register for this event here.
Presented by Georgia State University Perimeter College
Theremins are musical instruments you play without touching them! They make strange, otherworldly sounds, like we find in old sci-fi movies, The Big Bang Theory, and now on your own desk! Join us at GSU Perimeter College in Decatur to learn how they work and make one to take home, and you won't want to miss the theremin performance by Scott Burland! Get tickets here.
Presented by Georgia State University Perimeter College
The next time your friends stop by, your home will be "lit." Smart home technologies are right at your fingertips at our Code the Glow event, where you will create your own automated programmed lighting system using Arduino. Arduino is a powerful, yet accessible, programmable microcontroller board that can be used for many automated projects. GSU Professor of Physics, Mathes Dayananda, will teach you how to use Arduino to program an LED light strip, which you can take home to impress your friends.
Parents need only register for their child (children), not themselves (unless you will also be participating). Register here.
Presented by Cobb County Public Library
Robotics! Virtual reality! Hands-on science! Come on out to the Cobb County Public Library System's Family Tech Time for a family-friendly afternoon of fun and science. Educators are also invited to preview CCPLS STEM Stacker educator kits developed in partnership with the Georgia Science Teacher Association and UGA Cobb 4H. Learn more about this free event.
Can't get enough science? Discover the full #ATLSciFest 2020 schedule here!
https://atlantasciencefestival.org/wp-content/uploads/2020/02/ASF-2020-Technology-Events.jpg
627
1200
Anna Laura McGranahan
https://atlantasciencefestival.org/wp-content/uploads/2019/08/logo-atlanta-science-festival-engineered-science-atl.png
Anna Laura McGranahan
2020-02-04 13:24:28
2020-02-04 13:43:05
So You Want to Learn About… TECHNOLOGY