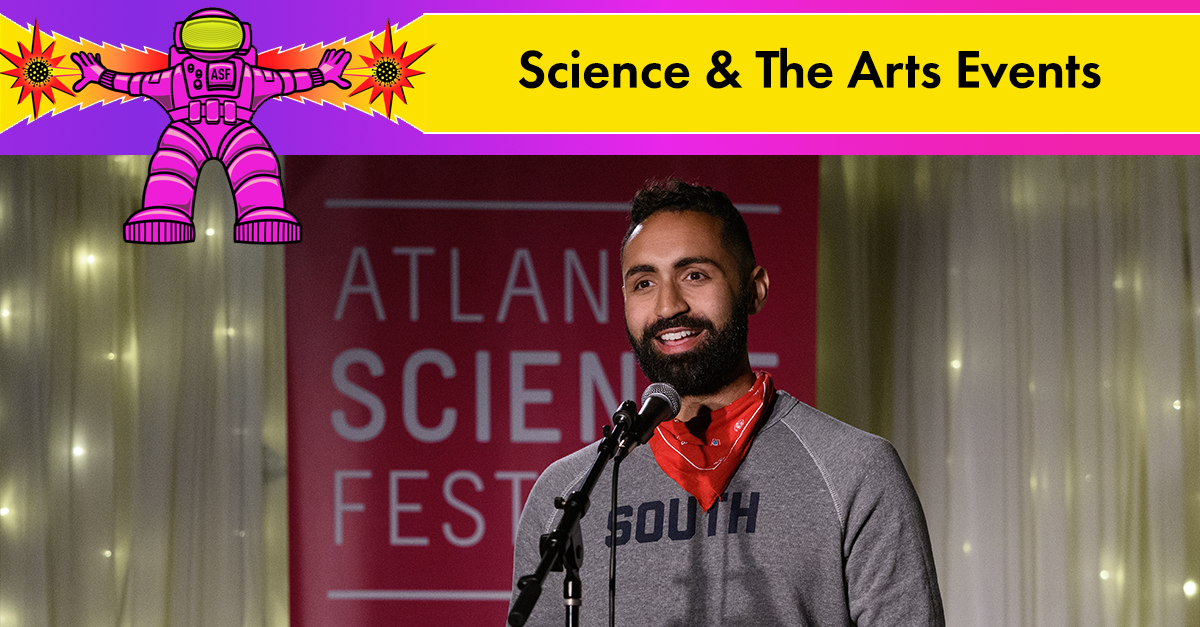 Science & The Arts Events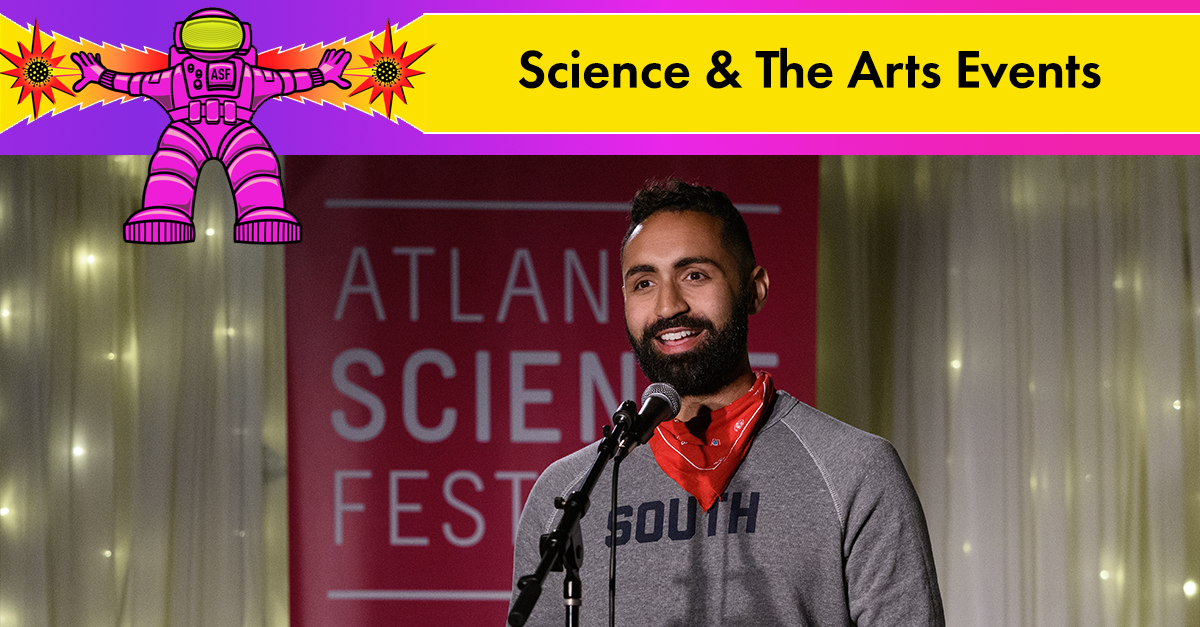 Check out these events ranging from jazz to crafting in order to gain interdisciplinary insight into our world. Start planning your Atlanta Science Festival experience with these Science & The Arts events, taking place March 12-26.
Presented by Museum of Design Atlanta 
Nature's been solving problems for eons! What can we learn from the natural world and how can we apply it to help humans? Find out how you can make the world a better place by learning from the original designer herself, Mother Nature. Learn from Nature in this family-based hands-on activity! This event repeats on March 19.
Presented by Georgia Tech STEM Communication and Outreach, Georgia Tech Student Organizations
Ever wonder what goes into making some of your favorite crafts? Haven't picked up your pandemic hobby? Make your own mini-crafts and learn about the science of materials in knitting, origami, flower pressing, pottery, and more. Join the GT STEM Communication and Outreach Group, and bring your family and friends to craft together!
This event is sold out. Learn More Here.
Presented by Science Gallery at Emory University 
Art and science are often unfairly placed at opposite ends of the spectrum. The overlaps between the two abound with art inspiring science, science inspiring art, and above all – creativity guiding both. Join us for a conversation about creativity and how artists and scientists leverage the intersection of art and science to provoke dialogue and solutions for shared global challenges.  We will hear from Atlanta-based artist and architect Amy Landesberg, Georgia Tech mathematician/physicist Elisabetta Matsumoto, and the Science Gallery, a new arts x science venue in Atlanta.
Free admission with advance registration. Register Here. 
Presented by Georgia Tech 
Get a sneak peek at what goes into the latest in music technology by visiting our music, art and technology fair, just before the Georgia Tech Guthman Musical Instrument Competition. See musicians, artists, engineers, and makers showcase their latest work at this hands-on, interactive showcase.
Registration is not required for the free Fair, but tickets must be purchased for the Guthman Competition. More info about that event here.
Presented by Georgia Tech 
A music, engineering, and tech mashup, the Georgia Tech Guthman Musical Instrument Competition is an annual event aimed at identifying the world's next generation of musical instruments and unveiling the best new ideas in musicality, design, engineering, and impact. The Guardian called the competition "The Pulitzer of the New Instrument World," and The New York Times described the "special, otherworldly sound that you can feel permeating your soul" which became the hallmark of the competition. Fast Company explained how Guthman's "Futuristic Instruments will change how we make music," and Atlanta Magazine suggests that "at the Guthman Competition, innovative instruments just might predict the future of music."
Come early from 4-7pm to see musicians, artists, engineers, and makers showcase their latest work at the Guthman Music, Art, and Technology Fair- a hands-on, interactive showcase.
Presented by Georgia Tech and Whole World Improv Theater 
It's improv comedy with a science twist! Come see experienced improv actors and professional scientists take the stage together to put on a unique entertainment and educational experience. The audience will provide scientific suggestions to drive the performance, and you're sure to have a great time and come away having learned something too! Comedy improvisation has never been geekier.
Presented by the Center for Puppetry Arts 
Join the Center for Puppetry Arts and Frisch Marionettes as they introduce you to The Wizard of Oz!  Your amazing Atlanta Science Festival experience will include a puppet show, a Create-A-Puppet Workshop™, Museum exhibits with specialized learning stations, and much more!  Have a blast learning about the weather, simple machines, and the STEAM of puppetry. For a a 25% off discount for these special ASF shows, use code "ASF" when purchasing your tickets. This event repeats from March 18 – 20.
Presented by Mathematics in Motion, Inc., Julia Robinson Mathematics Festival
Explore the wonder of mathematics through the performing arts!  How do dancers and circus performers understand math and communicate its beauty with their unique talents?  At Mathematics in Motion original performances by some of Atlanta's most creative artists  will open your eyes to new ways of seeing mathematics.
Presented by Science for Georgia 
Scientists are funny! And because we're scientists, we've got data to back that statement up!. Back by popular demand, and *in 3D*…come see scientists do comedy at Science Jazz Hands! Learn the answers to all of life's mysteries, like "how can you make a math pun that bad?" and "how is religion like nuclear physics?"
After-hours zoo access is via the gate at the south end of the Cherokee Ave Lot. Register here.
Presented by The Story Collider 
The Story Collider brings true, personal stories about science to life. At this live show, you'll hear scientists tell heartwarming (and heartbreaking) stories about their failures, successes, and everything in between, and you'll also hear from people who haven't had a formal connection to science in years. Science is a part of all of our lives and The Story Collider brings chemists, comedians, actors, neuroscientists, writers, and physicists alike onto the stage to tell their (true) stories.
https://atlantasciencefestival.org/wp-content/uploads/2022/01/science-the-arts-events-2022.png
627
1200
Aakiem Philippe
https://atlantasciencefestival.org/wp-content/uploads/2019/08/logo-atlanta-science-festival-engineered-science-atl.png
Aakiem Philippe
2022-01-31 17:30:52
2022-02-23 17:13:55
Science & The Arts Events