The Atlanta Science Festival gives Atlanta media a sneak peek at this year's explosive Festival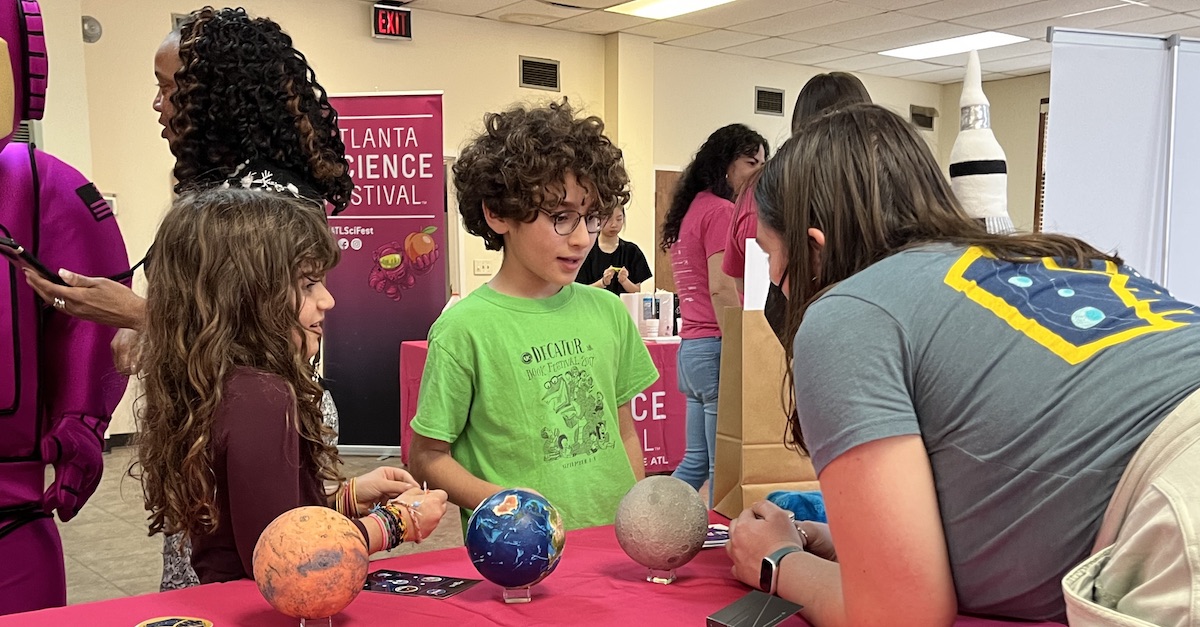 On February 21, the Atlanta Science Festival, presented by Delta Air Lines, gave local media a peek at what to expect at this year's event.
Several Atlanta Science Festival partners setup at the headquarters of the nonprofit at the First Christian Church of Decatur. Members of the media and a group of area children took turns exploring the wonders of science at science activity stations. ChEmory, the Emory University affiliate of the American Chemistry Society; Goodisman Lab at Georgia Tech; Students for the Exploration and Development of Space at Georgia Tech; the Georgia Reptile Society; and WunderGrubs provided an array of hands-on experiences ranging from smelling the scent of space to eating mealworm cookies. The event showcased pythons, boas, yellow jackets, bullfrogs, and other amazing creatures that are vital to our environment.
"Science helps humanity learn about the world around us," said Zoey Wurtzel, 10, when asked about the importance of science. She and other children took part in experiments such as creating slime by mixing borax, water, and food coloring.
Other activities included Georgia Tech students explaining Pluto's distance from the sun using familiar local landmarks.
"There are not a lot of festivals like the Atlanta Science Festival in the country," said Akissi Stokes-Nelson, CEO and co-founder of WunderGrubs. "It's important to stress and promote STEM and STEAM. Exposing kids and families to what is really taking place in our world and explaining our role in it is essential."
The 2023 Atlanta Science Festival takes place March 10-25, 2023. All ages can experience 150 interactive and educational events. A full list of events can be found here.
https://atlantasciencefestival.org/wp-content/uploads/2023/03/IMG_8356.jpg
627
1200
Aakiem Philippe
https://atlantasciencefestival.org/wp-content/uploads/2019/08/logo-atlanta-science-festival-engineered-science-atl.png
Aakiem Philippe
2023-03-17 11:57:26
2023-03-17 12:20:26
The Atlanta Science Festival gives Atlanta media a sneak peek at this year's explosive Festival