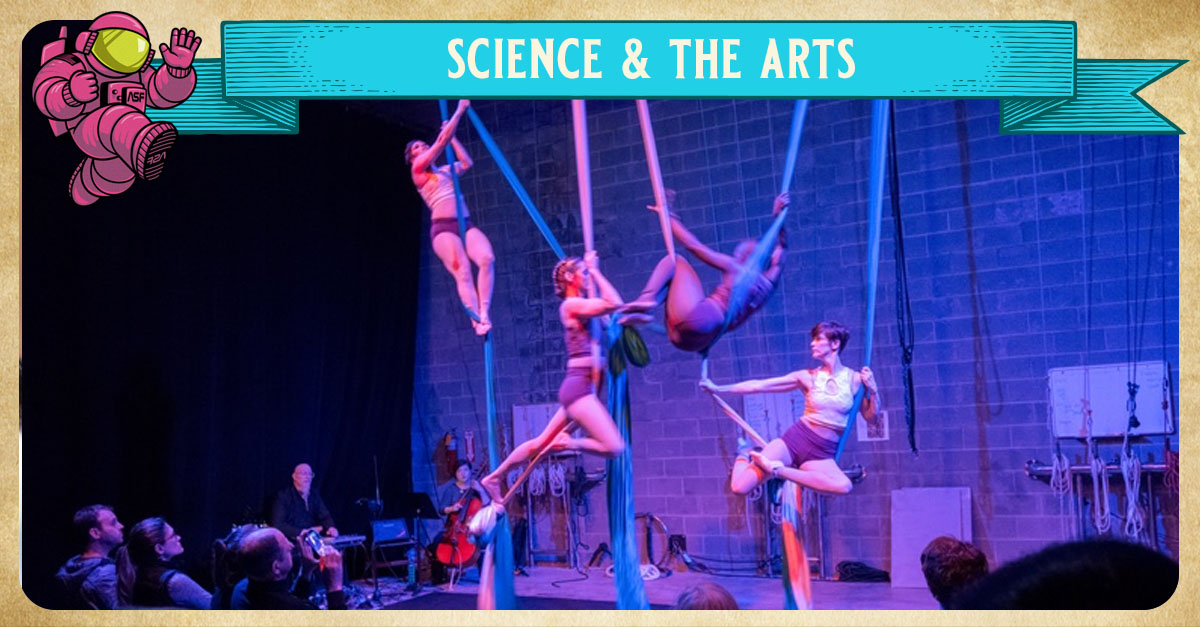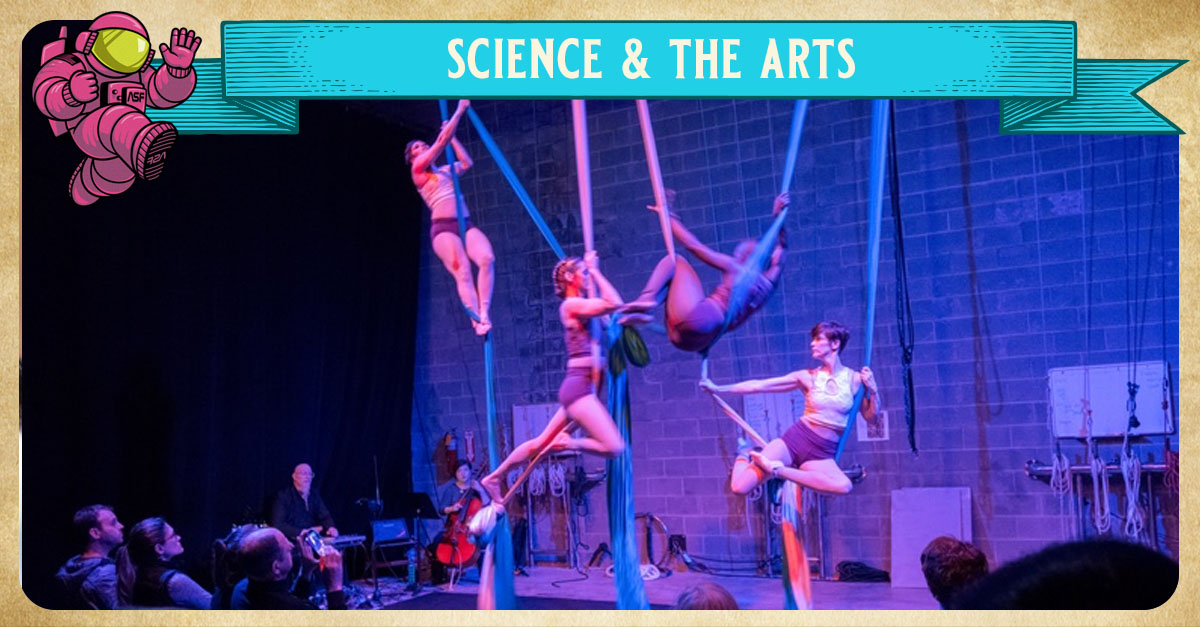 Often placed at opposite ends of the spectrum, science and the arts have more in common than you might think. See how art inspires science and how science inspires art at these Atlanta Science Festival  events, taking place March 10-25.
Presented by Little Shop of Stories 
Come hear local author (and 8th grader!) Alex Huynh talk about her book From Tears to the Sea and how water conservation inspired her art! Learn more about water conservation and make art with us at the accompanying collage workshop!
No registration necessary.
Presented by Challenge Aerial, Atlanta Circus Alliance, Extant Dream
Step right up and learn the science of the Circus! From graceful aerialists and acrobats to whip crackers, jugglers, and balancers, the circus is filled with science! Join amazing Atlanta circus artists as they demonstrate their skills and how science and skill helps make it all possible. Ladies, gentlemen, and children of all ages will enjoy this walkthrough experience.
This event repeats March 11 at 5:00 PM
Presented by Michael C. Carlos Museum at Emory University
What can works of art tell us about a culture's relationship to water? Civilizations throughout time and across the globe have responded in different ways to the excess or scarcity of this most important and precious of molecules. Enjoy a guided tour of the collections of Emory's Michael C. Carlos Museum, engaging with works of art that relate directly to water in daily life, religious ritual, and more.
This event repeats on March 18.
Presented by Georgia Tech  
Get a sneak peek at what goes into the latest in music technology by visiting our music, art and technology fair. We'll have all sorts of amazing instruments for you to play and explore. See musicians, artists, engineers, and makers showcase their latest work at this hands-on, interactive showcase.
The Fair will take place just before the Georgia Tech Guthman Musical Instrument Competition. Registration is not required for the free Fair, but tickets must be purchased for the Guthman Competition.
No registration necessary.
Presented by Georgia Tech  
A music, engineering, and tech mashup, the Georgia Tech Guthman Musical Instrument Competition is an annual event aimed at identifying the world's next generation of musical instruments and unveiling the best new ideas in musicality, design, engineering, and impact. The Guardian called the competition ""The Pulitzer of the New Instrument World."" Meet some of the most innovative instrument makers from around the world as they perform alongside the best musicians from Georgia Tech and around Atlanta. Then vote on your favorites and learn who the audience and the judges pick as this year's winners!
Presented by Georgia Tech/ STEMComm VIP   
Join Georgia Tech STEMComm on the runway! See scientists, designers, and engineers showcase the newest innovations in fashion and wearable science in the nerdiest fashion show of the year. Vote on your favorite designs and strut in your own scientific style on the red carpet to win special event giveaways!
Come sip on some champagne and sit back to see the latest science styles on the catwalk!
Presented by The Museum of Animation  
Have you ever wondered how animation works in your favorite cartoons? Discover the science behind animation and how our minds perceive pictures in motion. In this hands-on workshop we'll explore how animated images are created and make your own optical toys and animations to take home!
Presented by Science Gallery Atlanta
Art and science are often unfairly placed at opposite ends of the spectrum. The overlaps between the two abound with art inspiring science, science inspiring art, and above all – creativity guiding both. Join Science Gallery, an arts x science venue in Atlanta, for a conversation about creativity and how artists and scientists leverage the intersection of art and science to provoke dialogue and solutions for shared global challenges.
No registration necessary
Presented by Fulton County Arts & Culture; The Public Art Futures Lab
Explore the possibilities of technology and virtual reality in making art! Visit the Public Art Futures Lab to try out a Meta Quest 2 headset and learn how immersive technology is creating new ways to explore art with 3D modeling, painting in VR, spray-painting in VR, and sculpting in VR. Drop-in anytime!
No registration necessary
Presented by Center for Puppetry Arts
Join the Center for Puppetry Arts and Hunter Marionettes as they introduce you to Penguin in My Pocket!  Your amazing Atlanta Science Festival experience will include a puppet show, a Create-A-Puppet Workshop™, Museum exhibits with specialized learning stations and much more!  Have a blast learning about simple machines, creative problem solving and the STEAM of puppetry. Puppets + Science = MAGIC!
Use code ASF for 25% off your ticket for these special ASF shows!
This event is repeated ten times throughout the Festival. Check for other showtimes.
Get tickets here!
Presented by Georgia Tech, Whole World Improv Theatre
It's improv comedy with a science twist! Come see experienced improv actors and professional scientists take the stage together to put on a unique entertainment and educational experience. The audience will provide scientific suggestions to drive the performance, and you're sure to have a great time and come away having learned something too! Comedy improvisation has never been geekier.
Presented by The Story Collider
The Story Collider brings true, personal stories about science to life. At this live show, you'll hear scientists tell heartwarming (and heartbreaking) stories about their failures, successes, and everything in between, and you'll also hear from people who haven't had a formal connection to science in years. Science is a part of all of our lives and The Story Collider brings chemists, comedians, actors, neuroscientists, writers, and physicists alike onto the stage to tell their (true) stories.
Presented by The Happy Black Parent, Pittsburgh Yards 
What's better than a Friday movie night? A STEAM Friday movie night of course! Join The Happy Black Parent as we watch the National Geographic film, Science Fair, at the beautiful Pittsburgh Yards development in southwest Atlanta. We'll chat about the movie and have maker stations set up for you and your kiddos to explore before and after!
Presented by Rogue Wave Dance 
Gap Junction originated from research into neurological pathways. Every brain has a unique response to stressors influenced by genetics, culture, upbringing, and demographics. Come, witness the Gap Junction cast find their similarities and differences, drawing on their own experiences and lives, particularly Messina's: a Sicilian-American, spending her formative years in a multi-generational household, followed by eight years in the urban south. This performance is a treat for all, with familiar music, high energy, and a dance-along at the end!
Presented by Alliance Theatre
Computer hacking, AI, giant lasers, and time travel? Sign us up! Join the Alliance Theatre for a special showing of The Many Wondrous Realities of Jasmine Starr-Kidd, the heartwarming story of second chances and learning that sometimes the things you can't change are the things that should have happened all along. Following the show, dissect the science behind these concepts with expert scientists!
Presented by Fernbank Museum
What do colors and music have in common?  Math!  Wait, math?  Yep!  This playful, interactive presentation will take you on a tour of your own senses with math and science as a guide.
Presented by Brown Toy Box, Home Depot Backyard
Join us for a screening of the movie <em>Fantasy Football</em> at the super cool outdoor venue just outside Mercedes Benz Stadium, the Home Depot Backyard. What does football have to do with science? Watch the movie, hear from our scientists and engineers, and you'll find out!
Presented by Dragon Con Science Track, Stephen Granade, Rae Pendergrass
Bat DNA turning a man into a vampire. Ghosts made of Bose-Einstein condensates. The moon falling into the Earth. We're going to force our science communicators to watch short movie clips and then explain why the science in them is 100% accurate, yes, even the bit about using bombs to stop earthquakes.
Presented by Science for Georgia, Zoo Atlanta
Scientists are funny! And because we're scientists, we've got data to back that statement up!. Back by popular demand, and *in 3D*…come see scientists do comedy at Science Jazz Hands! Learn the answers to all of life's mysteries, like "how can you make a math pun that bad?" and "how is religion like nuclear physics?"
Presented by Alliance Theatre
Meet Roob & Noob: two overly curious scientists who love nothing more than discovering something new. Join them on an interactive adventure, as they build machines from simple objects and explore the wonder and sensations of each of the four seasons. Inspired by Rube Goldberg's magical machines, this unique theatrical performance combines science and the arts, proving that sometimes the most profound discoveries are achieved by simply playing.
This event repeats on March 22.
Presented by Rae Pendergrass
Solve for X is a science-themed comedic variety show where everything is turned upside down: professional artists do short performances inspired by science and scientists do improv comedy, all for the delighted amusement of a tipsy audience.
https://atlantasciencefestival.org/wp-content/uploads/2023/01/science-_-the-arts.jpg
627
1200
Aakiem Philippe
https://atlantasciencefestival.org/wp-content/uploads/2019/08/logo-atlanta-science-festival-engineered-science-atl.png
Aakiem Philippe
2023-01-24 20:00:18
2023-01-22 20:59:40
Science & The Arts