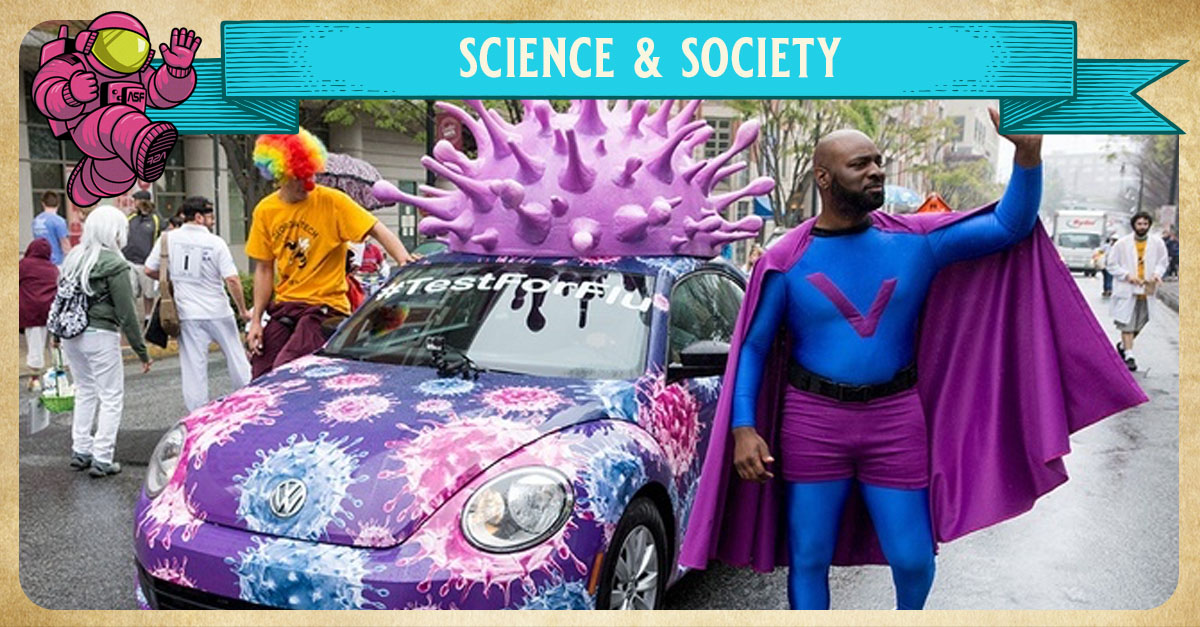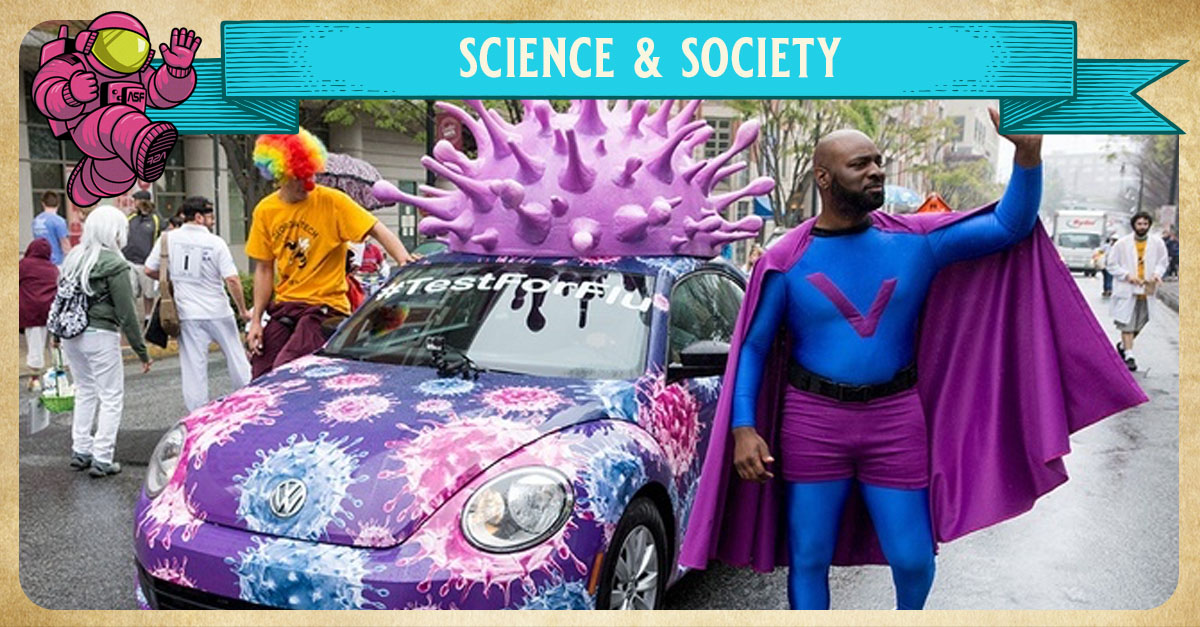 The intersection of science and how it influences the culture of the world at large truly brings to life the value of STEM learning. These 2023 Atlanta Science Festival events are all about what science means for society. Start planning your Atlanta Science Festival experience with these events, taking place  March 10-25.
Presented by Michael C. Carlos Museum at Emory University
What can works of art tell us about a culture's relationship to water? Civilizations throughout time and across the globe have responded in different ways to the excess or scarcity of this most important and precious of molecules. Enjoy a guided tour of the collections of Emory's Michael C. Carlos Museum, engaging with works of art that relate directly to water in daily life, religious ritual, and more.
This event repeats on March 18.
Presented by Science Gallery Atlanta
Art and science are often unfairly placed at opposite ends of the spectrum. The overlaps between the two abound with art inspiring science, science inspiring art, and above all – creativity guiding both. Join Science Gallery, an arts x science venue in Atlanta, for a conversation about creativity and how artists and scientists leverage the intersection of art and science to provoke dialogue and solutions for shared global challenges.
No registration necessary
Presented by Science for Georgia
What do we want? Democracy! When do we want it? Now! But how do we get there? Speaking with your legislators is a perfect example of democracy in action. They can only serve community needs if they know what you care about. If science is what you care about, log in for this online session with Science for Georgia and learn how to effectively share your opinion with your legislator. Then come see our booth at the Exploration Expo to learn more about how you can get involved!
Presented by Doctor Pete Productions LLC
Dr. Pete's decades of experience as a molecular modeling researcher and stand-up comedian bring you a hilarious look at the chemicals that affect your life every day. Using simulations and demonstrations we will finally decipher those funny-sounding ingredients in the side panels on consumer products.
No registration necessary
Presented by The Story Collider
The Story Collider brings true, personal stories about science to life. At this live show, you'll hear scientists tell heartwarming (and heartbreaking) stories about their failures, successes, and everything in between, and you'll also hear from people who haven't had a formal connection to science in years. Science is a part of all of our lives and The Story Collider brings chemists, comedians, actors, neuroscientists, writers, and physicists alike onto the stage to tell their (true) stories.
Presented by Emory's Citizen Science Health and Diversity  
Interested in science and public health? Would you like to dabble in coding? Join us Saturday and Sunday for a deep dive into coding at HealthHacks2023, an annual health themed hackathon for middle and high school girls, and present your final hacked solution at our closing presentation Sunday evening! Come learn to code with Scratch and create your own project to address global health problems! All levels of expertise are welcome, especially those without prior coding experience!
Presented by West Atlanta Watershed Alliance
The West Atlanta Watershed Alliance presents Afro-STEM, a celebration of science through an Afrocentric lens! Much of our modern world, including technology, medicine, art, and even space exploration, has been shaped by black and African thinkers and cultures. Join our "fair-style" event as we recognize and explore those contributions. Participate in hands-on STE(A)M activities, interactive presentations, and engaging demonstrations inspired by black and African scientists, inventors, artists, cultures, and history.
Note there are two additional sessions of this event noon, and 2:00 PM.
Presented by STEM Gems, Spelman College 
Join us for an interactive panel discussion that will enlighten and empower girls and young women to pursue careers in STEM: Science, Technology, Engineering, and Math! You'll meet exceptional women from a diverse set of STEM careers and learn about the unique journeys that led to their respective careers. You'll understand what they do, how they make a difference in the world, and how they help people using STEM. You'll walk away with advice, guidance, and to-do's specific for girls and young women to help jumpstart their STEM journeys. As a bonus, you'll take home some STEM Gems swag that includes the 44 STEM Gems and STEM careers featured in the STEM Gems book!
Presented by Emory University 
Silicon Valley dominates AI tech like voice and face recognition. We use these daily, but do they work for everyone – or you? The less you are like the technology creators, the less likely these technologies will work for you. This workshop will show you how to make the technology work for you, and will give you a kick start by teaching you many of the important ideas. You will get hands-on experience training AI to recognize your voice and face.
Presented by Emory's HERCULES Exposome Research Center 
Impact your neighborhood through Science! Communities across Atlanta have partnered with the Emory HERCULES Exposome Research Center to tackle local environmental health issues. Step into the shoes of these citizen scientists and experience the tools and methods used to track contaminants, monitor water quality, test air samples, and more. Explore the impacts that citizen scientists all across the city have had on their communities, and see how you could be the next!
Presented by Fulton County, Veolia Water, D. Clark Harris Inc.
Ever wonder where our water comes from and what happens to water before and after we use it? Come take an educational journey through the Johns Creek Environmental Campus and learn about the entire water treatment cycle! Watch millions of gallons of water journey through the process of treatment; learn about the latest in treatment technology, all while touring a state-of-the-art treatment facility. See the pipes and actual treated water and learn about where it goes when it's all cleaned.  A perfect opportunity to find out how your water is kept clean and safe!
Presented by First Christian Church of Decatur, Gentle Spirit Christian Church of Atlanta 
What are the intersections and shared pathways of science and spirituality, of physics and faith, of biology and belief? Belief in a loving God may be nice if you have it, but what if you aren't wired that way? What if your main mode of being is by thinking, wondering, and questioning? Who says the only way to encounter the holy is through faith? Can people connect via the mind, or intellectualism, or reasoning?  Join us as we explore the overlaps of science and spirituality. Our panel of local scientists and theologians will explore and offer a wide range of insights and offerings in a safe space for open dialogue.
No registration necessary.
Presented by Emory University, Georgia Center for the Book 
Humans spend a lot of energy distinguishing between the animals we invite into our lives and the ones we chase away. But whether we consider a cat, a rat, a wolf, or even an elephant a hero or a villain depends on what we want from them — and what we decide reveals more about us than it does about them. Science journalist Bethany Brookshire talks about her new book "PESTS: How Humans Create Animal Villains" (Ecco) to journalist and author Maryn McKenna.
This virtual event is part of the ongoing Emory University "Health Storytelling" series.
https://atlantasciencefestival.org/wp-content/uploads/2023/01/science-_-society.jpg
627
1200
Aakiem Philippe
https://atlantasciencefestival.org/wp-content/uploads/2019/08/logo-atlanta-science-festival-engineered-science-atl.png
Aakiem Philippe
2023-01-24 20:00:09
2023-01-26 08:44:29
Science & Society