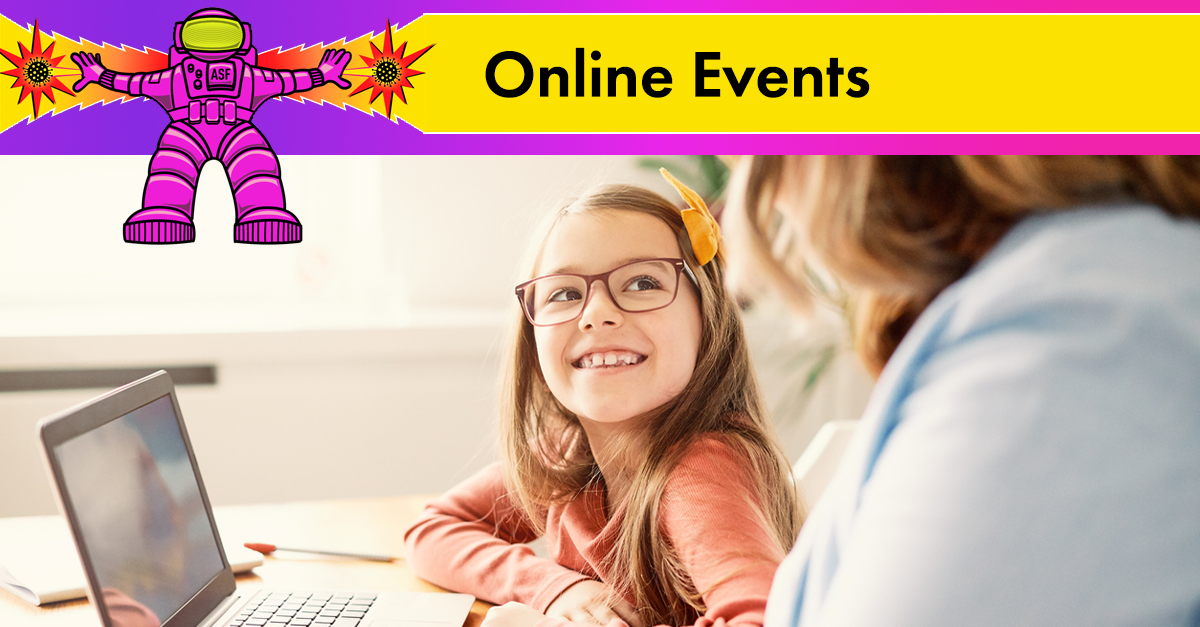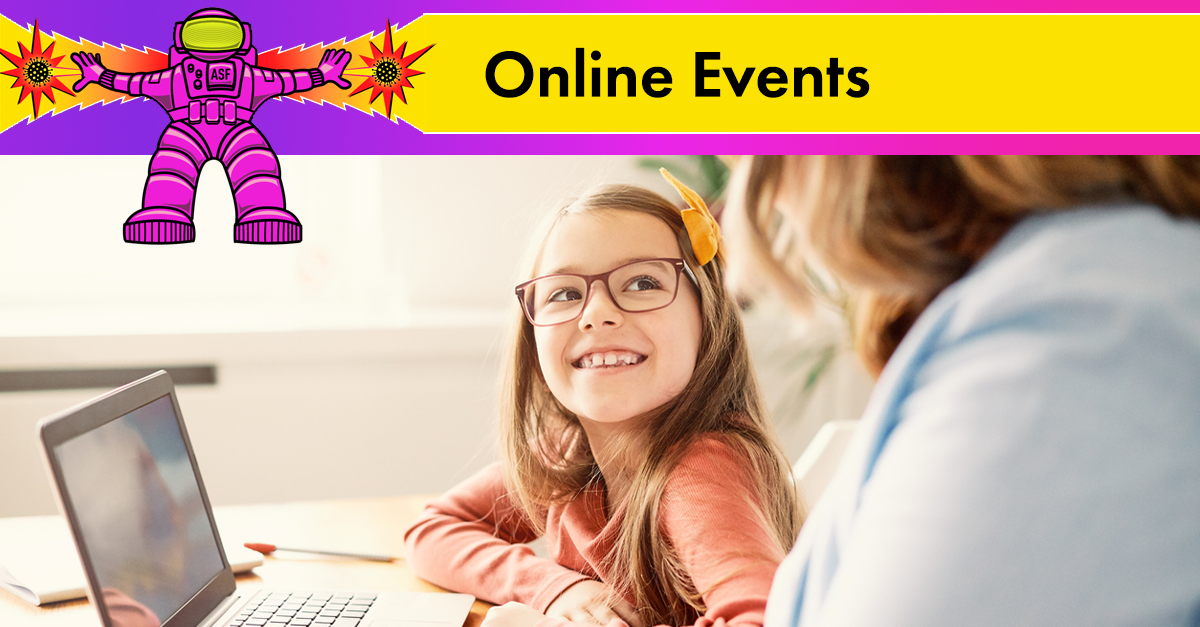 Looking for fun and engaging online opportunities to learn more about a variety of scientific topics? These 2022 Atlanta Science Festival events are all available online! Start planning your Atlanta Science Festival experience with these events, taking place March 12-26.
Presented by Georgia State University
Explore the universe from home and imagine life as an alien as you investigate the night sky with and create your own alien.  Scientists from Georgia State University's Physics and Astronomy Department will lead through a tour of the universe via an online application and provide instructions for exploring the effects of light pollution and creating an alien life form. All you need are basic materials from home and your imagination.
Presented by Georgia State University, Neuroscience Institute, Center for Behavioral Neuroscience
Our amazing brains evolved here on earth along with other animals' brains. How do brains allow humans to use tools, rats to use smell to navigate, and birds FLY? If you could build the brain of your own imaginary creature, what would it look like? Join Georgia State University neuroscience majors to learn about the evolution of brains, what the different parts of the brain do, and then create your own imaginary creature's brain! Participants will receive Play-Doh by mail to participate in the activity. This event repeats March 19 and 20.
All sessions of this event are sold out. Learn more here!
Presented by Science for Georgia
What do we want? Democracy! When do we want it? Now!
But how do we get there? Speaking with your legislators is a perfect example of democracy in action. They can only serve community needs if they know what you care about. If science is what you care about, log in for this online session with Science for Georgia and learn how to effectively share your opinion with your legislator.
Presented by the American Association for the Advancement of Science (AAAS) IF/THEN Initiative, funded by Lyda Hill Philanthropies
If statues could speak, what would they say? Find out at this interactive online panel discussion, featuring successful women in various STEM careers from across the U.S. who all share one thing in common – they were featured in the largest display of female statues in the world through the IfThenSheCan Exhibit. These phenomenal women will be covering topics like the plethora of opportunities in STEM, how to prepare for these types of careers, the importance of the female perspective in STEM, strategies to succeed in environments where you may be "the only one", and many more – through an interactive virtual game. Don't miss the opportunity to hear from these prominent STEM pioneers!
Presented by the German Consulate General in Atlanta; Dr. Joachim Hecker
What is the 'magic' behind the fabulous "Ames room"? How do pickles get tickled by high voltage? What can you see with infrared eyes? What happens to styrofoam frogs in a pressure cooker? Do plastic cups have a memory? How can you inflate a knotted balloon? Why don't suction cups work on the moon? So many questions – and a show full of answers!
As Science Entertainer Jo Hecker puts it: "I don't like science. I love science!"
Presented by Emory University, Saikawa Lab
How can YOU solve the environmental health problems in Atlanta? Air quality and lead exposure are both issues causing health problems in the city. With your ideas for innovative public policy or product solutions, we can start addressing these problems. On Friday evening, attend the virtual kick-off info session to be briefed on the issues by experienced Emory students. Attend virtual office hours with Emory students throughout the weekend to talk through questions. And finally, join our virtual showcase on Sunday evening to present your solution. You could win money and one-on-one time with Emory students and professors to talk about your proposed solution! Participate in Hack the Earth: People Focused, Earth Centered to solve critical issues in the Atlanta community!
Presented by Georgia Tech CEISMC Go-STEM, HoPe
We invite you to our 10th Annual Latino College and STEM Fair! Join us online for bilingual workshops, and inspirational conversations with Latino college students, parents, professors, and other STEM professionals. Various prizes and raffles for attendees. Hands-on STEM workshops will be available for schools and community organizations. This will be a free, fun, educational and exciting event organized by Georgia Tech's GoSTEM program in partnership with HoPe (Hispanic Organization Promoting Education). You don't want to miss it!
Presented by Emory University, Citizen Science HD
Want to learn about the different types of COVID-19 vaccines? What is in your COVID self-test kit that detects COVID-19? Join us at Healthhacks 2022, an annual health-themed hackathon for middle school and high school girls! Come learn to code with Scratch and create your own project to address global health problems! Workshop themes this year include nutrition and food insecurity in Atlanta and the health of immigrant children in the U.S. This is a hackathon for beginners with no prior experience to computer programming.
Presented by Wild Cumberland
Hear directly from scientist and author Carol Ruckdeschel about the historical challenges Cumberland Island and its Wilderness has faced, its current challenges, and the public's role in protecting it.
Presented by Georgia State University, Georgia Institute of Technology, Center for Translational Research in Neuroimaging and Data Science
Neuroscience is looking for a few good brains! Join a virtual tour of the Center for Advanced Brain Imaging (CABI) to learn how brain scanning works and how you can volunteer. The tour shows off the equipment that researchers use to explore the health and development of the brain using magnetic resonance imaging (MRI) and other techniques. Members of the public from all age groups can volunteer to participate in critical studies at CABI that help us understand how the brain changes over the lifespan and how to resolve concerns about reading, anxiety, traumatic brain injury, tumors, and more. Expert scientists will lead an interactive but pre-recorded virtual tour, then provide a live Q/A panel discussion afterward to field all your burning questions about brain imaging.
Presented by Georgia State University: The Bio-Bus Program
Join the Bio-Bus and learn how to speak the language of DNA! We will provide a DIY kit and you can tune in to do some activities with us, learn the basics of DNA, and meet some cool resident scientists!
This event is sold out. Learn more here!
https://atlantasciencefestival.org/wp-content/uploads/2022/01/online-events-2022.png
627
1200
Aakiem Philippe
https://atlantasciencefestival.org/wp-content/uploads/2019/08/logo-atlanta-science-festival-engineered-science-atl.png
Aakiem Philippe
2022-01-31 17:30:59
2022-02-23 17:42:52
Online Events