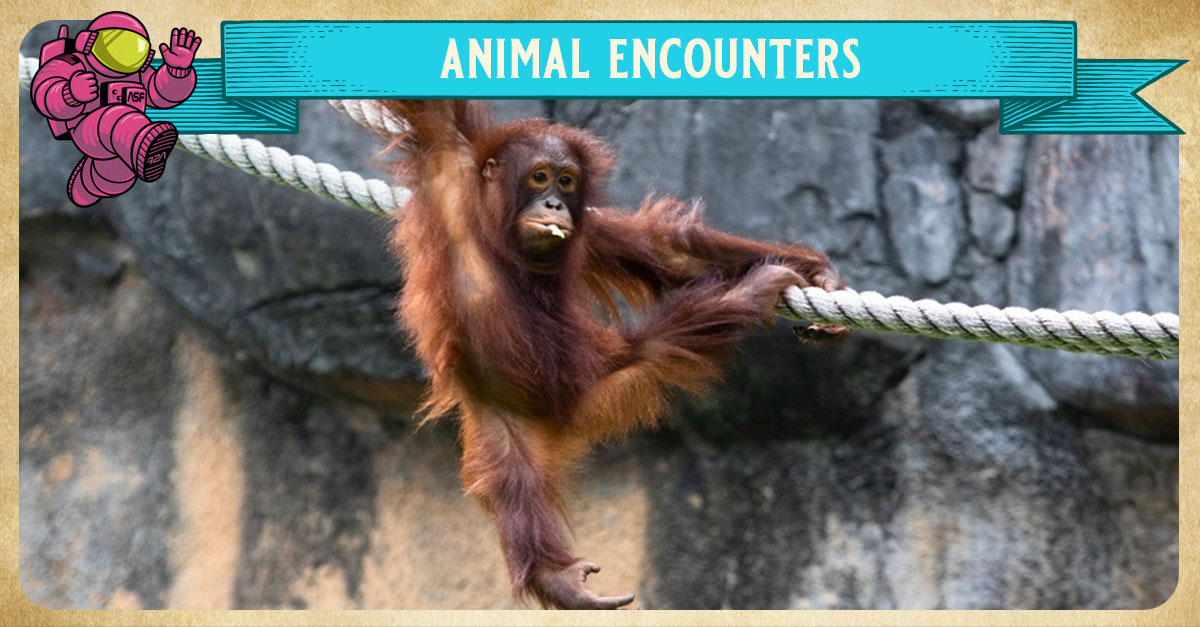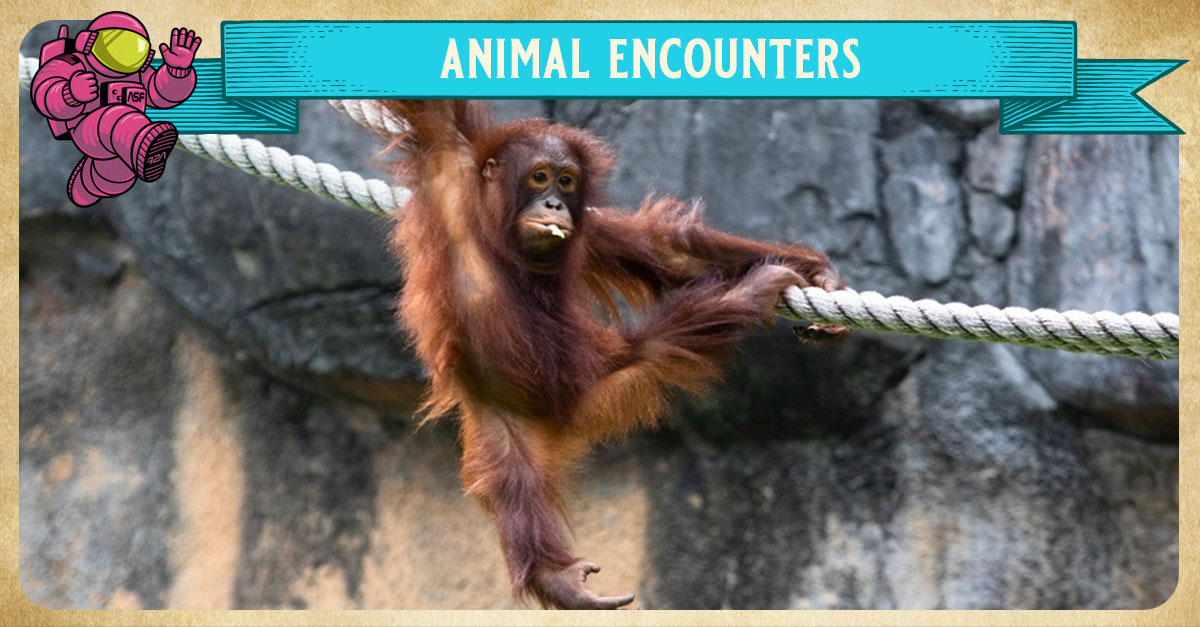 Are you a sucker for weird animal facts? Love to spend time with 4, 6, or no-legged friends? Check out these upcoming events all about animals. Start planning your animal encounters at the Atlanta Science Festival, taking place March 10-25.
Presented by Zoo Atlanta, Georgia Tech  
Ever wonder how orangutans swing, or how an elephant trunk works? Join us at Zoo Atlanta to celebrate the diversity of animals on Earth and the incredible ways they move. With help from biomechanics experts at the Georgia Tech, you'll get to participate in live demos and presentations sure to generate excitement about biomechanics and applications in Bio-inspired Design. Engaging for all ages! Get inspired to learn more about yourself and the natural world!
Presented by DeKalb County School District  
Bring the whole family and exTENd your science knowledge at Fernbank Science Center's "Project X: Top Tens of GA" on Saturday, March 11. From ecology to geology, you'll interact with our exTENsive collections representing TEN science disciplines, organized into top ten lineups found in Georgia.  Revel in scintillating science with FREE hands-on activities, live snake encounters, fantastic fossil finds and dramatic demonstrations, plus enjoy the allure of astronomy and grandeur of geology.
No registration necessary.
Presented by the Amphibian Foundation  
Atlanta is home to a unique nonprofit dedicated to the conservation and research of amphibians amidst a global population decline. In 2016, the Amphibian Foundation formed to focus on conserving two of Georgia's most imperiled species (Gopher Frog and Flatwoods Salamander). Since then has begun working on other native and globally endangered amphibians. Closed to the public, this is a chance to see the conservation collections and meet Foundation staff working hard to save these vital and sensitive animals from extinction.
Stop by anytime for this drop-in event!
No registration necessary.
Presented by Georgia State University – Geosciences  
Feeling sluggish? So are we! Come on out on a slug filled adventure where we'll use our eagle eyes to search for these slimy and fascinating creatures, and learn all about them as we hike through Sykes Park! Download the iNaturalist app beforehand, and we'll use that to identify what we find and contribute data to the Atlanta SLIME (Snails and slugs Living In Metropolitan Environments) project! See how many TENtacles you can find in celebration of the 10th Atlanta Science Festival!
No registration necessary.
Presented by Chattahoochee Nature Center   
Flying into the Future is where science and nature collide to bring you activities focused on STEM –  Science, Technology, Engineering, and Math. We are all about forward-thinking at this Family Fun Day! Come ready to learn about flying animals and test your tinkering skills with our STEM-themed partners and activities, crafts and activities that will test your knowledge, and EcoTinker Science Stations open!
Thanks to our partners for making this event truly special one: Georgia Audubon, WILD Nest Bird Rehab, Jenna Ellett Amazing Bats, Urban Kingsnake Project, Computer Museum of America, Miles Ahead Charter School, High Meadows School, Keep Roswell Beautiful, Bach 2 Rock Sandy Plains, Citizen's Climate Lobby, Roswell Fire Labs, Georgia Forestry Foundation
Presented by Zoo Atlanta  
Bring your littlest ones for an evening of exploring the Zoo after-hours! Enjoy a mini tour of the Zoo with a Zoo Educator, stopping along the way to sing songs, hear animal stories, and dance like an animal! This program is designed for families with children ages 0-5, with opportunities for exploration for ages 0-2. Introduce your young conservationist to wildlife, inspiring them to learn more about animals and the natural world!
Presented by Amphibian Foundation, Clyde Shepherd Nature Preserve
Come on out to Clyde Shepherd Nature Preserve in Decatur and witness wildlife with regional experts from the Amphibian Foundation. Become 'citizen scientists' and perform an amphibian 'bioblitz' inventory of the preserve documenting salamanders and frogs in one of the last strongholds for amphibians inside of the perimeter! Everyone and their families are encouraged to attend and bring your cell phones to upload images of what we find to iNaturalist.
Presented by Georgia Audubon
Ever wonder which birds make melodic tunes to wake you up every morning or wanted to see the magnificent colors they display in real-time? Come explore an introductory course to birdwatching and observe our modern-day dinosaurs with Georgia Audubon. Led by our staff ornithologist, we will cover the basics of identification, binocular use, and safety to get you started on your bird discovery journey. Following guided instruction, we will test our skills on a trip through Grant Park to see just how many feathered friends we can find!
Presented by WunderGrubs
Join WunderGrubs to explore the super powers of bugs! We'll start our insect exploration with a bingo scavenger hunt and then tour our mealworm vertical farm in Midtown near Piedmont Park on the Atlanta Beltline Eastside Trail. You'll hear all about how mealworms can be used to help solve many of today's environmental problems as a food, feed, and fertilizer, plus so much more! Bonus: buggy treats for you to taste!
This event is repeated on at 1:00 PM the same day.
Presented by UGA Extension-Cobb County 4-H
Are you wild about animals and all things animal science? Join UGA Extension and Cobb County 4-H as your family will learn about wildlife, habitats, animal science and more. To add to the fun, there will even be hands-on critter encounters!
Presented by Emory University, Georgia Center for the Book 
Humans spend a lot of energy distinguishing between the animals we invite into our lives and the ones we chase away. But whether we consider a cat, a rat, a wolf, or even an elephant a hero or a villain depends on what we want from them — and what we decide reveals more about us than it does about them. Science journalist Bethany Brookshire talks about her new book "PESTS: How Humans Create Animal Villains" (Ecco) to journalist and author Maryn McKenna.
This virtual event is part of the ongoing Emory University "Health Storytelling" series.
Presented by Amphibian Foundation, West Atlanta Watershed Alliance
The Amphibian Foundation seeks to elevate awareness of the global amphibian declines. Here in Atlanta, AF also works to address some of the urban pressures impacting reptiles as well. There is perhaps no group more misunderstood and despised than venomous snakes. AF has been working with the community since the beginning to help people discern facts from fiction and even teaches a training course on how to handle venomous reptiles safely. Come explore these awe-inspiring animals, and let's see how much of that fear is actually fascination.
https://atlantasciencefestival.org/wp-content/uploads/2023/01/Animal-Encounters.jpg
627
1200
Aakiem Philippe
https://atlantasciencefestival.org/wp-content/uploads/2019/08/logo-atlanta-science-festival-engineered-science-atl.png
Aakiem Philippe
2023-01-24 20:00:22
2023-01-26 08:54:44
Animal Encounters