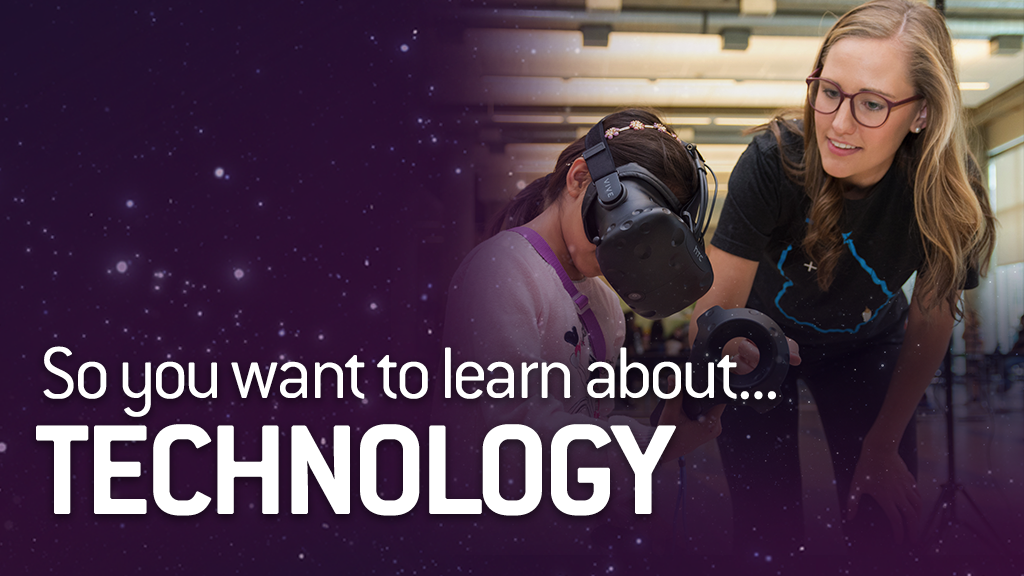 Tech out at #ATLSciFest 2018! Join us and experience the robotic revolution, explore the depth of the world wide web, watch a drone competition unfold, and much more. Plan your festival experience today by reading our recent blog that lists all of our events covering technology.
Rise Up, Robots!, Presented by Lockheed Martin
The robot uprising is coming on March 9 at The Ferst Center for Performing Arts. Grab your survival gear and provisions. The Atlanta Science Festival Launch Event will provide an evening with a droid comedian, a robotic musician, a bionic arm and more! Safe for sentient beings of all kinds (humans preferred). Be sure to join us before the show for an interactive Robot Petting Zoo starting at 6 pm. Purchase your tickets here.
The Power of Connected, Presented by Honeywell Connected Enterprise
On March 13 at Honeywell Atlanta Software Center, we will hear from experts across the Atlanta tech community who will dive into what drives our local technology industry and how we can better prepare ourselves for this critically connected future. After the panel, you'll have the chance to ask questions and chat directly with our experts. As a special bonus, we'll be hosting tours of the brand new Honeywell facility where you'll get to see and touch the solutions that Honeywell has created for a critically connected world. Register for free in advance here.
TECHNOSELF With Deantoni Parks, Presented by AIR Serenbe
Critically acclaimed drummer Deantoni Parks will present a special performance and conversation that explores the balancing of technology and self at Red Light Cafe on March 16! Parks will explore how musicians augment their natural talents with technology, harnessing its powers to fuel their own vision. Purchase your tickets here.
Unveiling The Internet, Presented by Emory University
This interactive event on March 21 will take us to the heart of how the internet works. How exactly does YouTube show you videos so quickly? What are BitCoins and how do you get one? How does information move from one computer to another? We will answer these questions and more as we tinker with code, rotating through different stations doing everything from seeing how your Snapchat snaps move through space to learning how to hack a bank [simulated, naturally]. Register for free in advance here.
Drones For Good, Presented by Grady High School and G3 Robotics
Drones are everywhere these days, but how much do you know about how they work, how to fly them, and what they can do? Pop in to catch a glimpse of this exciting program for middle school students where you can watch the competition unfold. Learn more about this event here.
Project Zero: Presented by HuffPos, Jimmy Carter Presidential Library & Museum, and The Carter Center
Experience two new, 360° virtual-reality videos from HuffPost's "Project Zero," which documents neglected tropical diseases, including the Carter Center's work on river blindness and lymphatic filariasis in Nigeria. Creating stories with this cutting-edge technology helps people understand the challenges of eliminating the diseases worldwide. In addition, this experience at the Carter Presidential Library brings perspective to how Presidents are advised about the impact of science and technology on domestic and international affairs. Learn more about this event on March 15 at the Carter Presidential Library & Museum here.
G4C Game Jam: Presented by Georgia Tech Research Institute, Georgia Tech CEISMC, Games 4 Change, National Organization of Minority Architects (NOMA)
The Games for Change (G4C) Student Challenge is a national game design program that invites you to create digital games about issues impacting your community. You will get to work with educators and experts to create games around the theme of 'Connected Cities.' Through the Game Jam, you will learn how Atlanta is being transformed through design, innovation and technology. Then, you will get to apply your new knowledge to game design through a series of game making stations/activities. Register for free in advance here.
The Sound of Light, Presented by GSU Perimeter College – Decatur Campus
Theremins are musical instruments you play without touching them. They make strange, otherworldly sounds, and show up in old sci-fi movies, The Big Bang Theory, and now on your own desk! Join us to learn how they work and then make one to take home (available to the first 75 people). As a special treat, we'll be featuring Scott Burland of the Atlanta-based Duet for Theremin and Lap Steel. Playing the theremin since 2004, Burland uses computer-based effects, widening the sonic palette of the instrument. Learn more and RSVP here.
CCPLS Family Tech Time, Presented by Cobb County Public Library System
Junior techies, join in on March 10 at Mountain View Regional Library! Float from table to table sampling tech gadgets and get hands-on with makerspace activities in this family-friendly afternoon of fun. Call (770) 509-2725 with any questions. Learn more here.
https://atlantasciencefestival.org/wp-content/uploads/2018/02/TECH.png
576
1024
Anna Laura McGranahan
https://atlantasciencefestival.org/wp-content/uploads/2019/08/logo-atlanta-science-festival-engineered-science-atl.png
Anna Laura McGranahan
2018-02-21 14:51:15
2019-01-29 10:51:19
So you want to learn about… TECHNOLOGY