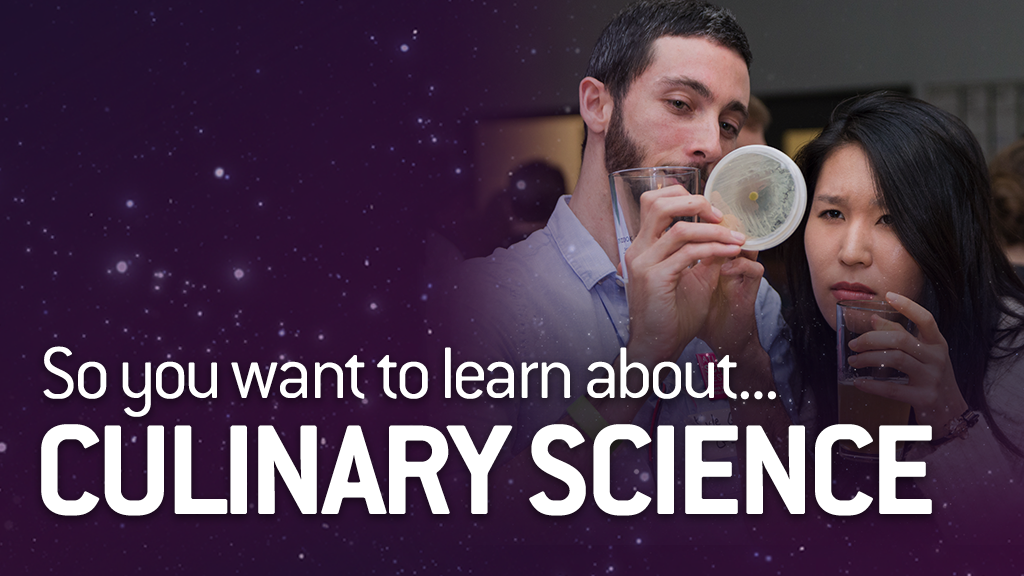 Craving a fusion of science and food? #ATLSciFest 2018 is jam-packed with events related to culinary science. Learn how to make the perfect cup of coffee with Taproom Coffee, the science of sour beer with Monday Night Brewing, how to cook with insects, and much more. Read below to find the perfect culinary science event for you and your family!
Taste of Science, presented by Georgia Institute of Technology
Check out our "Taste of Science" signature event at Georgia Tech's campus on March 10 from 12-4 PM. This event will feature live demonstrations, food samples, and fascinating facts that tie science, culture, and food together. The "Taste of Science" event is sure to satisfy your appetite for learning! Purchase your tickets to Taste of Science here.
Breaking Down The Bean, presented by Taproom Coffee
Break down the bean at Taproom Coffee on March 14 from 7-9PM and learn what it takes to create the perfect cup of coffee! Join us for a hands-on demonstration as we explore how time, temperature, grind coarseness, and proportion all affect what's in your cup — and learn how to harness these variables in your own kitchen! Get your tickets to Breaking Down The Bean here.
Exploring Edible Insects, presented by Little Shop of Stories
Curious about broadening your palette? Join us for a special storytime and some buggy treats at Little Shop of Stories on March 18 from 3-4 PM! American culture embraces lobster and shrimp, but people in other parts of the world dine on these arthropod's landbased cousins too. Insects are delicious and nutritious staples, yet an outdated taboo makes us squirm at the thought of crunching cricket tacos or slurping silkworm soup. Cooking with these new textures and flavors can be fun and beneficial to local and global health. Parents, this is not a drop off event. We request parent accompaniment. Reserve your seats to Exploring Edible Insects here.
From Orchard to Barrel: The Science of Sour Beers, Presented by Shades of Green Permaculture and Monday Night Brewing
Join us at Monday Night Garage on March 18 from 1-3 PM to learn about the science of sour beers! At The Garage, brewmasters worked with Shades of Green Permaculture to design an organic orchard that will produce wild yeast that will be passively harvested to make beers on-site that reflect the unique flavors of plants and fruits in the outdoor space. Tickets to From Orchard to Barrel will go quickly so get yours today.
Kids Day on The Farm, presented by Georgia Organics and Love is Love Farm at Gaia Gardens
Come visit a real-life science lab—an organic farm on March 18 from 12-5 PM! This scavenger hunt will allow you to explore the science of a real farm right inside the city. Come prepared to romp on this food farm and get your hands a little dirty. Bonus: We'll have a tasting activity with a local chef. Click here to purchase your tickets and learn more about parking information. Tickets are only available online for Kids Day on The Farm.
Breakfast Lab, presented by UGA Extension
Think you can only do science in a lab? Not true! Join us as we step into the kitchen and explore the science behind your breakfast at Dekalb County Extension Office Auditorium from 10-11:30 AM on March 10. We'll be experimenting with ingredients to see what makes the fluffiest pancake, finding the effects of temperature on butter making, and more! Get your tickets to Breakfast Lab here.
Canning For Kids, presented by UGA Extension
How do we keep food from spoiling? How do we keep germs out of our food? Food scientists spend their time figuring out the best answers to questions like this. Join Canning for Kids on March 18 at Atlanta History Center from 4-7 PM to learn the science behind food safety and preservation while kids prepare their own strawberry freezer jam to take home! Through this hands-on experience, we'll teach children — and parents — how easy preserving food can be. It will be JAM-packed with fun. Register for Canning For Kids here.
Ice Cream Science, presented by High Road Craft Ice Cream
Unfortunately, this event at High Road Craft Ice Cream sold out within hours of us posting our 2018 programming. Be sure to mark your calendars for 2019 and register early next year for this tasty event in order to ensure your spot. You can learn more about Ice Cream Science here.
https://atlantasciencefestival.org/wp-content/uploads/2018/01/CulinaryScience2.png
576
1024
Anna Laura McGranahan
https://atlantasciencefestival.org/wp-content/uploads/2019/08/logo-atlanta-science-festival-engineered-science-atl.png
Anna Laura McGranahan
2018-01-29 10:00:22
2019-01-29 10:51:51
So you want to learn about... CULINARY SCIENCE