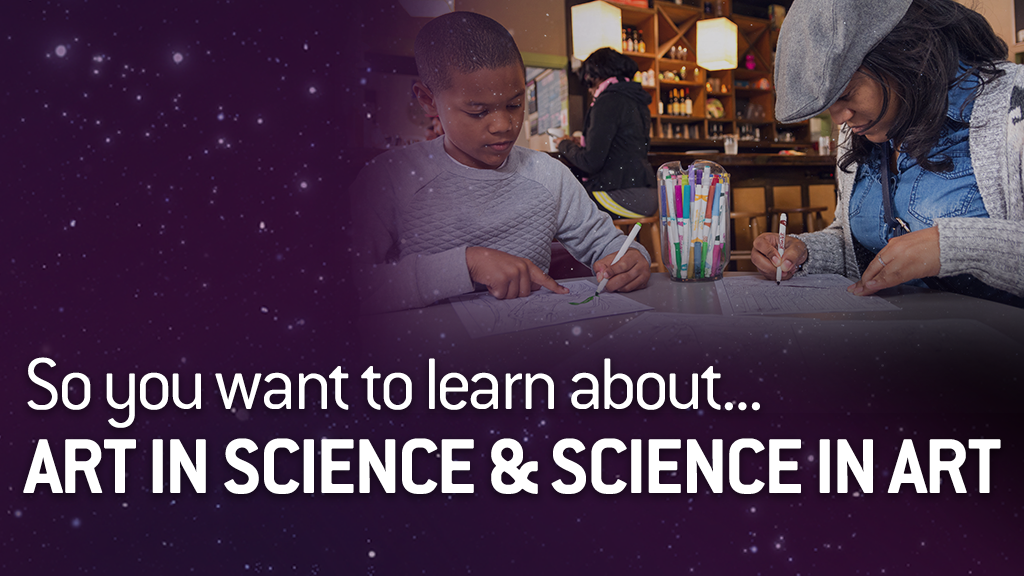 Do you want to learn how science influences art? Start planning your #ATLSciFest 2018 experience and explore our #STEAM events March 9-24! Explore the Voyager's Golden Record through modern dance, witness acclaimed drummer Deantoni Parks, meet Beatrice the Biologist, hear scientists tell their stories of success and failure at The Story Collider, and much more!
The Golden Record, Presented by The Hereafter Artist Collective, Flight of Swallows, and Georgia Institute of Technology
The Hereafter Artist Collective, Flight of Swallows, and Georgia Tech faculty are collaborating to bring performance art to the Atlanta Science Festival on March 11. Forty years ago, Carl Sagan arranged to send The Golden Record into space as a part of the Voyager Mission. The Golden Record, two phonograph records full of sounds and images, serves as a time capsule for future life forms to one day look back upon our existence. Under the direction of the Hereafter Artist Collective, this performance piece incorporates aerial arts, modern dance, and live music to explore the themes of this "time capsule" and how humanity may appear to those lifeforms. Will humanity be but a fairytale and The Golden Record just a beautiful moment when we reached to the stars looking to "join a community of galactic civilizations"? Purchase your tickets to The Golden Record here.
Technoself With Deantoni Parks, Presented by AIR Serenbe and ArtsATL
Critically acclaimed drummer Deantoni Parks will present a special performance and conversation that explores the balancing of technology and self on March 16 from 8-10 pm at Red Life Cafe. Parks will explore how musicians augment their natural talents with technology, harnessing its powers to fuel their own vision. Purchase your tickets to Technoself here.
Beatrice The Biologist: Comic Strip Science, Presented by Emory University and Women in Bio
Meet and greet Beatrice the Biologist on March 13 from 7:30-8:30 pm at Manuel's Tavern. You might have seen her science comics on the internet, but now's your chance to see the scientist behind it all. In this workshop, you'll learn how to draw your own science cartoons featuring amoeba hugs, dinosaur farts, and much, much more. Come to Manuel's at 7:30 to grab dinner and drinks with comics for dessert! PS: No art skills required! Purchase your tickets to Beatrice The Biologist here.
Mathematics In Motion, Presented by Little Minute and Drew Charter School
Join us as we explore the beauty of math through dance on March 11. Using mathematical concepts to inspire improvisations and choreographed movement, dancers and mathematicians will explore the intricacy and interconnectedness of their crafts through movement, live music, and visual art. This event will take place in the theater of the Senior Academy. Purchase your tickets to Mathematics in Motion here.
Science.Art.Wonder, Presented by Emory University
For over a year, the Science.Art.Wonder program has been pairing artists and scientists together to explore the scientific world through visual arts. Join us on March 23 from 3:30-7 pm at Emory University Quadrangle for a walking tour exhibit. You will see the resulting artworks and meet some of the amazing artists and scientists involved in the project. There will also be hands-on art and science activities. Learn more about Science.Art.Wonder here.
Full STEAM Ahead Family Day, Presented by High Museum of Art
What do science, technology, engineering, and math have to do with making art? Come to the High Museum of Art with your family where you will discover how art connects with these subjects and creativity on March 11 from 1-4 pm! View the exhibition Joris Laarman Lab: Design in the Digital Age, to see work by the innovative Dutch designer, whose approach to design is marked by combining science, technology, restless curiosity, and creativity and then participate in art-making activities! Learn more about Full STEAM Ahead Family Day here.
Evolution Animated, Presented by NSF/NASA Center for Chemical Evolution and Stated Clearly
Sometimes science is too complicated. Why can't they just state it clearly, and over drinks? Sometimes they can! Jon Perry, the creator of the hugely popular Stated Clearly animations, will present three of his animations, and explain the process of making them on March 21 from 7-10 pm at Monday Night Garage. After each animation, hear from scientists doing the research they convey. Join us at Monday Night's new garage located on the West Side Beltline; enjoy some drinks and learn some science! Learn more about Evolution Animated here.
The Story Collider, Presented by The Story Collider and NSF Center for Selective C-H Functionalization
The Story Collider brings true, personal stories about science to life. At this live show on March 12 at Highland Inn Ballroom, you'll hear scientists tell heartwarming (and heartbreaking) stories about their failures, successes, and everything in between, and you'll also hear from people who haven't had a formal connection to science in years. Science is a part of all of our lives and The Story Collider brings chemists, comedians, actors, neuroscientists, writers, and physicists alike onto the stage to tell their (true) stories. Purchase your tickets to The Story Collider here.
Puppets + STEM = Science In Motion, Presented by Center for Puppetry Arts
Join us at the Center for Puppetry Arts on March 12 from 9 am to 1 pm as we celebrate the science of puppets! We invite you to take part in a super fun, hands-on exploration of the magical place where puppetry and STEM (Science, Technology, Engineering, and Math) collide. You'll see how the scientific method has inspired some of the coolest puppetry projects EVER, how technology is used to create our incredible Center for Puppetry Arts puppet shows, how engineering is harnessed to design and build puppets all over the world, and how math skills are applied in our Create-A-Puppet Workshops. You'll tour the Museum, build a puppet, and enjoy interactive STEM stations and live puppetry demonstrations. A fun-filled day — guaranteed to educate, entertain, and inspire — awaits! Purchase your tickets here.
Frankenstein Goes Back To The Lab, Presented by Emory University
Three Atlanta playwrights take a new look at Mary Shelley's Frankenstein in the context of modern scientific research being conducted at Emory. Taking place in the stunning Science Commons on March 22, come witness artistic creations animated in the midst of the scientific ideas that inspired them. Join ethicists, scientists and artists to discuss the work over food and refreshments. Featured Playwrights are Edith Freni, Neeley Gossett, and Addae Moon.
Audiences are invited to attend either Act I, Act II or the full evening. Each Act consists of one or two short plays. Doors open at 5:30 for Act I, 6:00 pm for curtain. Doors open at 7 pm for Act II, 7:30 pm for curtain. Register in advance here.
Discovery Day: Fusion Gallery, Presented by Georgia State University
Art and science collide in the Fusion Gallery at Georgia State University on March 17 from 9:30 am to 2:30 pm. Nature inspires scientists to ask questions, but the mystery of the universe can also be expressed in other ways. GSU chemistry students and drawing/painting/printmaking students were paired and challenged to create original works of art inspired by the word "reaction." Student artists & scientists will be on-hand to explore the artistic process and the science behind each work. Come view their work in Fusion Gallery: Reaction. Learn more about Discovery Day: Fusion Gallery here.
https://atlantasciencefestival.org/wp-content/uploads/2018/02/ArtInScience.png
576
1024
Anna Laura McGranahan
https://atlantasciencefestival.org/wp-content/uploads/2019/08/logo-atlanta-science-festival-engineered-science-atl.png
Anna Laura McGranahan
2018-02-14 10:22:17
2019-01-29 10:51:06
So you want to learn about... ART IN SCIENCE & SCIENCE IN ART