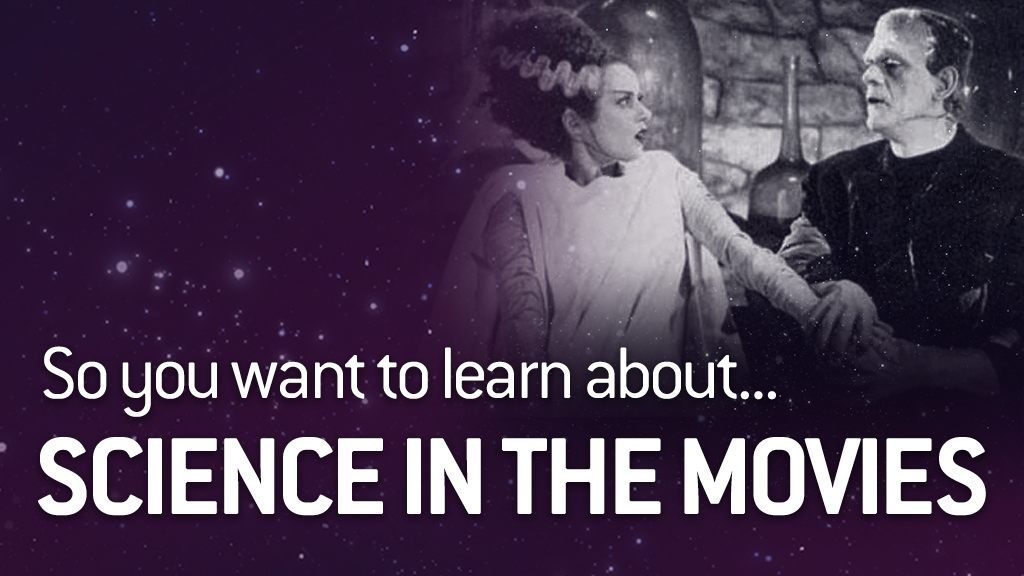 Have you ever watched science on the big screen and wondered how it was filmed? #ATLSciFest has many events in 2018's line-up that journey deep into science displayed on-screen.
Bride of Frankenstein, Presented by Fernbank Museum of Natural History and Emory University Center for Ethics
In honor of the 200th Anniversary of the publication of Mary Shelley's Frankenstein or The Modern Prometheus, we present a film screening of James Whale's Bride of Frankenstein on March 18 at Fernbank Museum of Natural History from 4-6 pm. A rare sequel considered to be greater than the original, it poses questions about the limits of science, the manipulation of life, and the ethical responsibility of the scientist. Join Fernbank Museum of Natural History; Emory bioethicist and Director of the Center for Ethics, Paul Root Wolpe; and author, filmmaker and media historian, Eddy Von Mueller, for a screening and lively discussion of science and ethics related to the film. Purchase your tickets to the Bride of Frankenstein here.
CDC In The Scene, Presented by David J. Sencer CDC Museum
Was The Walking Dead filmed at CDC? Could the monkey in the movie Outbreak actually spread a disease? Hear answers direct from the source on March 19 as CDC experts share info in this fact or fiction interactive session! This session is not appropriate for small children. Register for free in advance here.
Chasing Coral, Presented by Oxford College
The magnificent underwater landscapes of coral reefs are disappearing at an unprecedented rate. In a screening of the documentary film Chasing Coral on March 21, we'll tag along with divers, photographers and scientists on an ocean adventure to learn about the mystery of their disappearance. Hang around afterward to learn more about how Oxford is incorporating sustainability initiatives citywide. Register for free in advance here.
Astronomy of Star Wars, Presented by GSU Perimeter College – Dunwoody Campus
One with the Force are you? Join us on March 19 for this all-ages dress up sci-fi adventure where Professor Jay Dunn leads a discussion on the worlds and aliens of the Star Wars films and compares them with the planets and life in our solar system as well as extrasolar planets. Along the way, we'll enjoy video clips inspired by Star Wars and other sci-fi favorites. Young Jedi and Padawan alike are encouraged to attend in their favorite sci-fi attire. Learn more about The Astronomy of Star Wars here.
Autism In The Media: How Real Is It?, Presented by Marcus Autism Center
Shows like Parenthood, books like The Curious Incident of the Dog in the Night-Time, and movies like Forrest Gump all portray characters with autism. With 1 in 68 people being affected by autism spectrum disorder, it's no wonder we are seeing the disorder more in the popular media. To get it right, producers frequently consult experts to ensure that a character is being depicted authentically, and now we're bringing those experts to you on March 14 at Marcus Autism Center from 5:30-6:30 pm! Our panel of clinicians and science communicators will share their personal experiences in consulting on popular movie sets and shows that are currently starring an individual with autism. Learn more about this event here.
Bio-Bus: Star Wars Geoscience, Presented by GSU Bio-Bus
Are the fantastic geological formations of the Star Wars universe in a galaxy far, far away, or are they right here on Earth, or at least in or solar system? Hoth, Naboo, Dagobath and more may have been modeled off formations that are much closer to home. Join the Georgia State University Bio-Bus on March 14 for hands-on activities that explore how George Lucas' film relates to our own planet and our solar system. This event is best suited for children 11-14 years old and their families. Learn more about this event here.
https://atlantasciencefestival.org/wp-content/uploads/2018/02/ScienceInTheMovies.png
576
1024
Anna Laura McGranahan
https://atlantasciencefestival.org/wp-content/uploads/2019/08/logo-atlanta-science-festival-engineered-science-atl.png
Anna Laura McGranahan
2018-02-26 09:27:44
2019-01-29 10:50:52
So you want to learn about... SCIENCE IN THE MOVIES