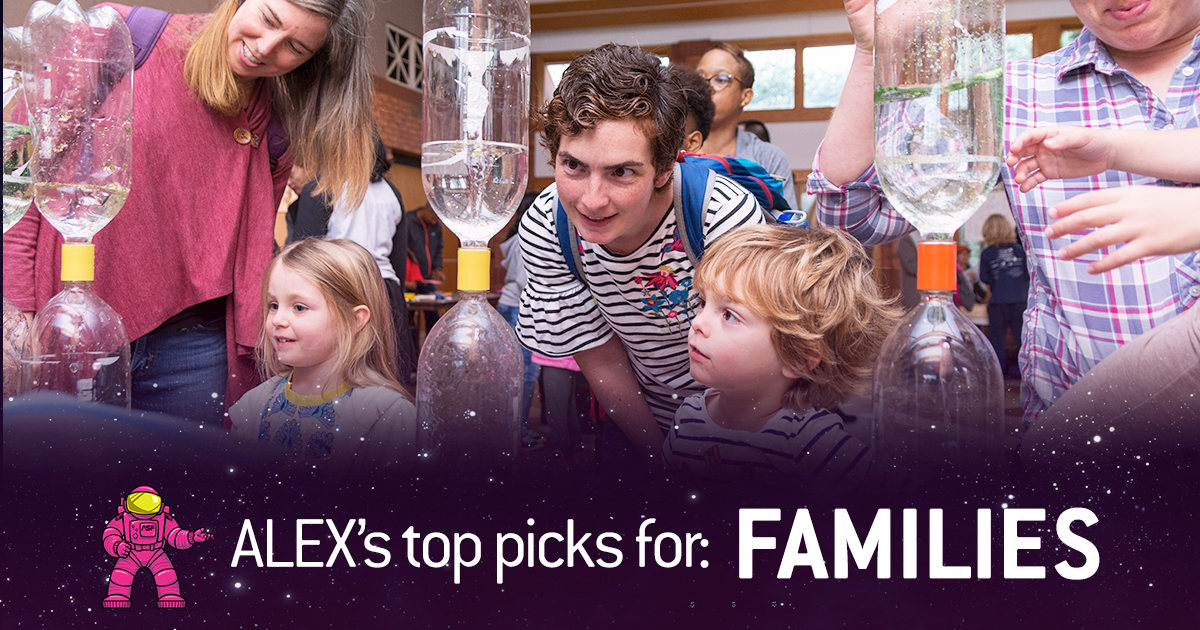 Check out ALEX's top picks for families in these #ATLSciFest 2019 events! Start planning your Atlanta Science Festival experience with these curated events, taking place all over metro Atlanta March 9-23. Become a zoo-keeper, explore archaeology, and much more!
Saturday, March 9th, 2019 2:00 pm – 5:00 pm
Drop in anytime to this open house event to see what's in your soil and learn about urban agriculture in Atlanta! Learn from farmers and scientists about how to start your own garden, potential risks from soil contamination, and simple ways to clean your soil. Don't forget to bring your own soil in a Ziploc bag to be tested for heavy metals! Advance registration appreciated, but not required. Any who register in advance will be given seeds and a startup kit. Register for this free event!
Saturday, March 9th 2019 – 3:00pm to 6:00pm 
DESIGNORAMA is Drew Charter School's annual family-friendly celebration of inventing, making and creating. This event brings together makers, crafters, inventors, hackers, scientists, and artists for a fair full of fun and inspiration. Come see what others are making and be inspired to tap into your own creativity! Learn more about this free event!
Family Zoo Yoga: "Panda"monium Style | Presented by Zoo Atlanta
Sunday, March 10th, 2019 8:30 am – 9:30 am
Forget Downward Dog! We're doing Downward Panda! Get down with Zoo Atlanta's pandas in a new way through the Family Yoga Program. During this hour-long event for families, you'll enjoy yoga featuring panda-inspired poses. After yoga, we'll explore more about Pandas, their habitat, and how we all can work to conserve this unique species. After the class, we encourage you to stick around visit the Zoo. All non-Zoo members will be provided with a 20% off coupon to use towards Zoo admission. Buy tickets for this event here!
Sunday, March 10th, 2019 1:00 pm – 4:00 pm
On the second Sunday of each month, the High Museum will offer free admission for all visitors and special family-friendly programming from 1 to 4 p.m. For this Second Sunday, we'll ask, "What do science, technology, engineering, and math have to do with making art?" Looking at works of art in our collection with scientists and artists, we will discover how art connects with these subjects as we explore the creative process. Learn more about this free event!
Wednesday, March 13th, 2019 5:00 pm – 7:00 pm
Let the Georgia State University Bio-Bus take you on a genetics adventure! DNA is for Families is an exciting series of hands-on activities where young learners (ages 5-10) and their parents work together to explore how different traits are inherited. You'll work with DNA models, and models of people, to explore how DNA plays a role in this process. Take your work home to show your friends! Register for this free event here!
Saturday, March 16th, 2019 9:00 am – 12:00 pm
Come to the Zoo for a unique family exploration. This three hour program for parents with children 4-13 gives families hands-on, minds-on fun as they explore what it is like to be a zoo keeper, field researcher and conservationist. Fun will include brainstorming with one of our keepers to create enrichment for animals, using the technology of field researchers, and creating a family plan on how to grocery shop sustainably. Each activity is designed to engage all members of the family. Purchase tickets here!
Saturday, March 16th, 2019 9:30 am – 2:00 pm
Explore four floors of hands-on science demonstrations from GSU departments and student groups. Learn about the science of ice-cream (and make some yourself), the wonders of 3-D printing, create slime, touch brains, and get a picture of yourself as a mad scientist! Identify various dinosaur footprints throughout the exhibits and exchange your scientific discoveries for a prize! Learn more about this free event.
Sunday, March 17th, 2019 1:00 pm – 4:00 pm
Bring the whole family out for a science carnival mashup! Parents and kids can play with–or against–each other in games based on some of your favorite classic science experiments and beloved carnival games: Air Cannon Shoot, Giant Jenga, Sound Wave Splash, and more! Register for this free event here!
Sunday, March 17th, 2019 3:00 pm – 6:00 pm
Build a better world at the ChangeMaker Faire! Think county fair with science mixed in, and so much more! The ChangeMaker Faire is an all-ages gathering of tech enthusiasts, crafters, educators, tinkerers, hobbyists, engineers, science clubs, students, and commercial exhibitors on the STEM-certified Amana Academy charter school campus. All of these "makers" come together to show what they have made and to share what they have learned. Visitors will enjoy moonwalks, food trucks, and STEM-themed activities such as Geocaching. Learn more about this free event.
Wednesday, March 20th, 2019 9:00 am – 2:00 pm
Join the West Atlanta Watershed Alliance and a host of partners to experience O-STEAM, Outdoor Science, Technology, Engineering, the Arts, and Math at the 26-acre Outdoor Activity Center in Southwest Atlanta, a part of the Atlanta Children's Forest Network! This amazing and engaging hands-on experience will celebrate the urban forest, urban watersheds, wildlife, the arts, and "going green" technologies that advance urban sustainability and combat climate change. Learn about pollinators, plants, amphibians, birds, water, community science, ways to prevent the pollution of our urban environment, and more! Register for this free event here.
Thursday, March 21st, 2019 6:00 pm – 8:00 pm
How did people live in the past? Archaeologists are the detectives of science, working to answer this question. Join Emory University experts for a set of activities where you can learn how to extract DNA, perform chemical analysis to discover the uses of artifacts, and put ancient objects and skeletons back together like a puzzle. Parents and kids alike can ask Emory anthropologists about their work and hear about the latest discoveries in the field. Learn more about this free event!
https://atlantasciencefestival.org/wp-content/uploads/2019/02/ASF-2019-ALEX-picks-for-families-blog-graphic.png
630
1200
Anna Laura McGranahan
https://atlantasciencefestival.org/wp-content/uploads/2019/08/logo-atlanta-science-festival-engineered-science-atl.png
Anna Laura McGranahan
2019-02-14 11:32:11
2019-02-21 15:36:54
ALEX's Top Picks for Families